Ignore Obasanjo, He's One Of Nigeria's "Expired Leaders" – Tinubu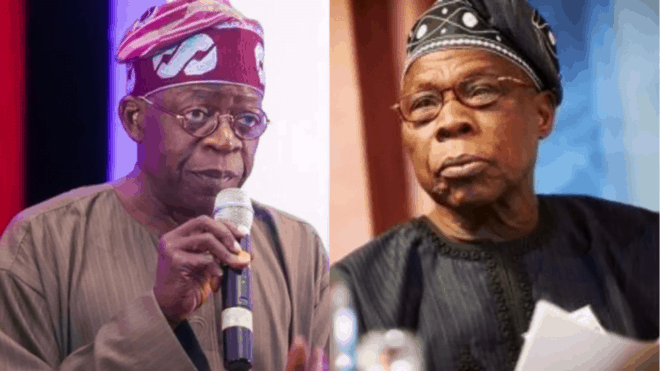 The national leader of the All Progressive Congress (APC), Bola Ahmed Tinubu, has called on Nigerians to disregard former president Olusegun Obasanjo criticism of President Muhammadu Buhari, saying Obasanjo criticism as was in bad faith.
Tinubu, who described Obasanjo as one of the country's  "expired leaders", boasted that if the association of persons he described as "angry old men" refuses to vote Buhari, he'll still get 95% of votes.
Tinubu said this during the campaign rally for President Buhari's re-election bid in Maiduguri, Borno State capital on Monday.
The APC chieftain, hinted that Obasanjo anger was as a result of the fact that he is unhappy with the feat attained by the APC government in the clean-up of the mess of the past 16 years of PDP administration.
"When we came on board in 2015, we promised Nigerians that we are going to turn the ship of this country to the right direction and we have done that.
"We are sweeping webs of collateral corruption, to give Nigerians a new life, new home and a solid foundation; that is what President Buhari is doing and we are 100 per cent behind him.
"President Buhari is upright, firm, steady and focused, with great vision for the betterment and progress of the country," he said.
The former Lagos State governor, admonished the people of the country to give President Buhari as second term in office, noting that the president will continue to uphold the sanity of the laws of the country.
APC National Chairman, Adams Oshoimole, while speaking applauded Buhari over the successes recorded in the counter-insurgency campaign and peace restoration to the northeast region.
"We still have security challenges but the arrogance and impunity that was wallowing Nigeria is now a thing of the past.
"The situation we find ourselves in now started during Obasanjo's regime. Do-or-die politics was Obasanjo's legacy. Today, the era of impeaching state governors is over.
"The era of quarrelling with Vice President on the streets is over; the era of withdrawal of Lagos state monthly allocations is also one of the legacies of Obasanjo," oshiomole added.
President Muhammadu Buhari who addressed the crowd in Hausa thanked them for their support and restated the commitment of his administration to the fight against corruption, insecurity, and improvement of the economy if re-elected.
Download NAIJA NEWS app: