Atiku Chickened Out Of Presidential Debate – Nigerians React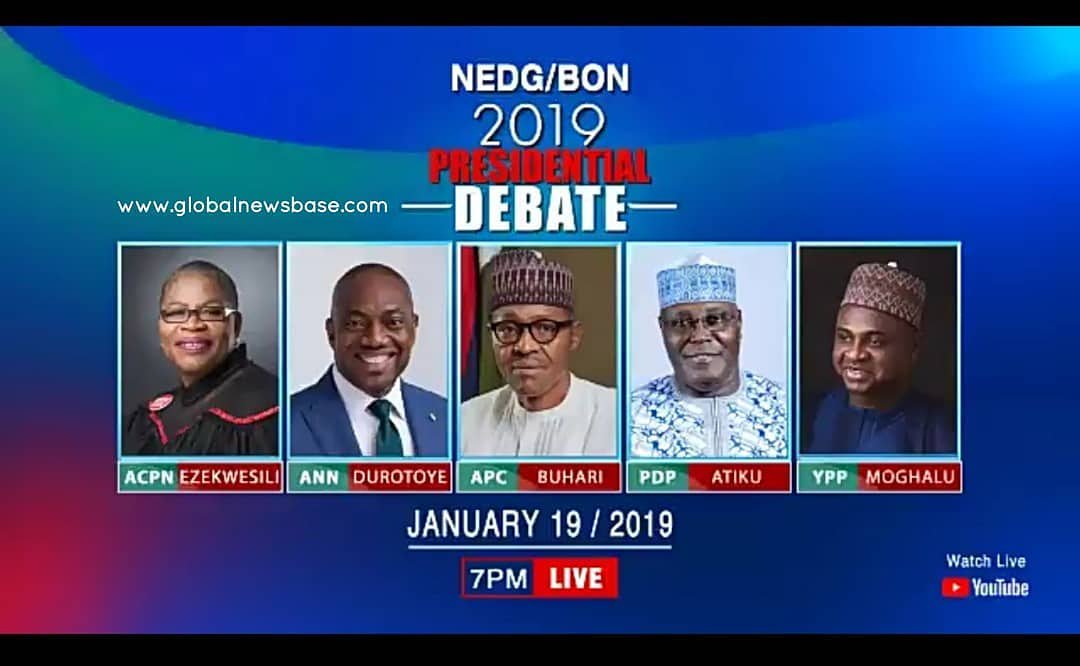 Mixed Reactions As Buhari , Atiku 'Dodge' NEDG Presidential Debate.
Reactions have started bowling in over the absence of the ruling All Progressive Congress Presidential candidate, Muhammadu Buhari and his main opposition, Atiku Abubakar of Peoples Democratic Party at the just concluded presidential debate.
The debate which was organised by the Nigeria Elections Debate Group (NEDG) and the Broadcasting Organisations of Nigeria (BON) had in attendance, the Allied Congress Party of Nigeria ACPN candidate, Oby Ezekwesili, Kingsely Moghalu  of the Young Progressives Party, YPP and Fela Durotoye of the Alliance for New Nigeria,ANN, Naija News reports.
As earlier reported Atiku explained that he could not attend the debate because Buhari was absent. According to the former vice president who  reportedly flew 12 hours to the venue of the debate (Transcorp Hilton Hotel in Abuja), "We came here for a Presidential debate, not a candidacy debate, and I, Atiku Abubakar can not challenge or question an administration where the man at the helm of the affairs of the nation is not present to defend himself or his policies. After all you cannot shave a man's head in his absence."
"I do not believe in attacking a man who is NOT here to defend himself. As a leader and former vice president of the Federal Republic of Nigeria, let me first apologise to all Nigerians, my fellow candidates and the moderator for the the APC Presidential Candidate's absence in this debate. His non-appearance is a slight on ALL of us and our democracy." He said
Nigerians however seem not to have bought this apology as they took to social media to insinuate Atiku was running for Presidency because of Buhari and not for Nigerians.
While a few commended and justified Atiku for refusing to debate at the Presidential Debate, some stoned him, counting his action as 'chickening out'
See Tweets below: 
So, if Buhari decide not to contest again, will Atiku also do the same?

Is Atiku in this race because of Buhari or why is it that he cant debate other candidates?

— Adeleke Opeyemi (@Equityoyo) January 19, 2019
My 12 year old son just asked me why #Buhari and #Atiku did not come for the debate?

After explaining to him, his response:

What Rubbish Is That?#2019Debate

— Olajide Alex-Oni CWM (@jidealexoni) January 19, 2019
You came, you saw, and you ran away!!!

— Sulaiman Ọpẹyemi ???????????? (@OlalekanSulaim6) January 19, 2019
I won't vote a man that put his fellow contestant @MBuhari before Nigerians. Moreover, I won't vote @atiku because Saraki doesn't worth to be tbe SP. Lagos-Ibadan expressway needs to be completed. https://t.co/a9wnngGgQ1

— Seye Abiodun (@pageman01) January 19, 2019
Atiku has been appearing on different platforms talking to Nigerians about his policies and programs.

Atiku has gone to over 10 states in Nigeria to campaign.

Atiku's manifesto is a public document that you can easily access.

But no!! He must debate for him to earn ur vote.

— Shalom Miriam Shehu (@MiriamShehu) January 19, 2019
Pls cn we divert our attention to buhari not only atiku, it should nt be a one sided judgement #2019Debate pic.twitter.com/mY1EB75oMR

— Debi-griin? (@debii_grien) January 19, 2019
Atiku really snubbed the other candidates like they didn't buy tickets ?

— SUGAR N SPICE (@browncandyx) January 19, 2019
Atiku chickened out! He should have debated! Is he particular about outshining Buhari or concerned about his manifestos?

Nigeria is a Failed state!!

— Oloju Ede ❤️| KaptionThis (@Mz_okikiola) January 19, 2019
See below, Tweets in support of Atiku's Absence at the Presidential Debate:
So y'all really expected atiku to go and be debating moghalu and durotoye? Una no really rate atiku sha

— Baamofin Lu'Jesha (@O_Nife) January 19, 2019
A presidential debate without the candidate of the ruling party is a mere opposition exercise . @atiku would have wasted his time. I support his boycott.

— Ross Alabo-George (@imaginasion1) January 19, 2019
Atiku has been having town hall meeting and telling the world his objective, so if the main challenger is not available why waste his time debating with pretenders that are trying to go up popularity ladder , I am 100% with his refusal to go on podium

— Hamma (@HAHayatu) January 19, 2019
Buhari didn't debate in 2015 … una still vote for am

Abeg miss me with your fake shock …

Atiku showed up, Buhari didn't

Now you want him to debate who? Who exactly? Like why exactly?

— Being Human is not Enough (@realdanielemeka) January 19, 2019
Download NAIJA NEWS app: