Onnoghen: Don't Set Dangerous Precedents – Femi-Falana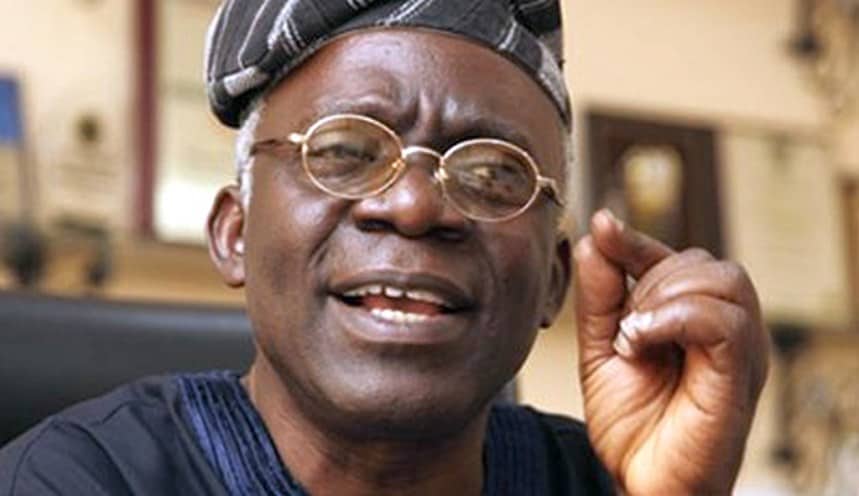 Falana Smells Trouble Over Manner In Which  CJN Onnoghen's Case Is Being Handled
Human rights lawyer and Senior Advocate of Nigeria, Femi Falana has described as 'dangerous' the issues around the arraignment Chef justice of Nigeria, Walter Onnoghen's before the Code of Conduct Tribunal.
Naija News reports that Falana's son Folarin, popularly known as Falz just released an Album, 'Moral instructions' – in which he addressed some societal ills.
Falana, who was speaking on Tuesday in Lagos during the 15th Gani Fawehinmi annual lecture, observed that some of the legal issues already settled by the Supreme Court in the case of Saraki vs Federal Government were being reopened in Onnoghen's case.
He noted also that the speed with which the various suits filed to challenge the charges against the CJN were heard and ruled upon by the courts was unprecedented.
Falana said, "The most dangerous aspect of what is going on now is that our laws are in trouble. Issues that have been settled by the Supreme Court in the Saraki vs FRN case are being reopened now.
"The question of the appearance of the accused, the question of service; it came up in Saraki's case. Once you are aware, you have been served. But we are opening it afresh.
"I just saw another disturbing one, the National Industrial Court has waded in to say that the Chief Justice shall not be arrested. Who is talking of arrest? What is the locus standi of the National Industrial Court on the affairs of a judge?
"We are now being told that the Chief Justice is an employee who should be protected by the National Industrial Court. The other one happened yesterday (Monday) when I discovered that a case that was filed at the Federal High Court yesterday (Monday) was processed yesterday, assigned yesterday, heard yesterday and an order was made yesterday. In the last 20 years, it has never happened in any court in Nigeria.
"Please, let us know that we are setting dangerous precedents. And that is why sentiment should not come in."
He added, "When I said that the proper procedure has not been followed and that the government should withdraw the frivolous charge, I wasn't talking about the substance of the case, because for me, if you catch an armed robber red-handed and you decide to chop off his hand, you have lost your case; you still have to take him to court and that is what should happen in this case. We must go through the proper channel for dealing with complaints against judges."
Meanwhile Naija News reports that the case against Onnoghen has taken another dimension as the Attorney general of Federation, Abubakar, malami has ordered the freezing of his five accounts.
Download NAIJA NEWS app: