FG To Freeze Onnoghen's Bank Accounts As Trial Continues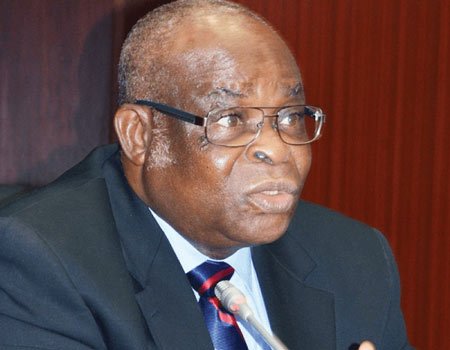 Nigerian Financial Intelligence Unit (NFIU) has been asked to freeze five bank accounts belonging to Walter Onnoghen, chief justice of Nigeria (CJN).
Abubakar Malami, attorney-general of the federation, who explained that the demand was based on a presidential executive order, gave the directive pending the determination of the case against Onnoghen at the Code of Conduct Tribunal (CCT).
Onnoghen is facing a six-count charge of false assets declaration, after an ex-aide of President Muhammadu Buhari, Dennis Aghanya, wrote a petition against the CJN.
The case was adjourned till January 22, after Onnoghen failed to appear before the tribunal on Monday.
The national industrial court had restrained Danladi Umar, chairman of the tribunal, from going ahead to hear the case against the CJN pending the determination of a motion filed by one Peter Abang.
The targeted accounts are being operated at Standard Chartered Bank.
"I am directed by Mr. Abubakar Malami, SAN, the Honourable Attorney General of the Federation and Minister of Justice to request that you, pursuant to the Presidential Executive Order No. 6 of 2018, forthwith restrict normal banking operations on certain accounts belonging to Hon. Justice Walter Onnoghen pending final determination of the case against him at the Code of Conduct Tribunal (CCT/ABJ/1/19," read the letter signed by Abiodun Aikomo
"These accounts are as follows:
(a) Account No. 5001062686 (Euro) Standard Chartered Bank (SCB)
b. Account No 5001062679 (Pound Sterling) SCB
c. Account No 0001062650 (Dollar) SCB
d. Account No 0001062667 (Naira) SCB, and
e Account No 5000162693 (Naira)
"Please accept the assurances of the esteem of the honourable attorney general of the federation and minister of justice."
Since the report broke on Saturday., the APC has been under serious criticisms, especially from the opposition Peoples Democratic Party (PDP)  who accused the APC government of trying to intimidate the judiciary ahead of the elections.
Download NAIJA NEWS app: