Updates From CJN Walter Onnoghen's Trial Before CCT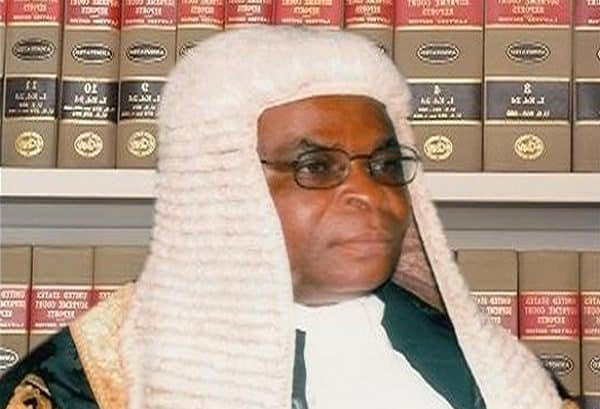 The Chief Justice of Nigeria, Walter Onnoghen is absent at the Code of Conduct Tribunal as hearing begins in the petition against him.
As earlier reported by Naija News, defending the CJN are 89 lawyers, comprising 46 senior lawyers and 43 other lawyers led by Wole Olanipekun (SAN)
Naija News authoritatively gathered that all three CCT members, including Chairman, Danladi Umar are however present at the sitting.
Chief Wole Olanipekun standing in for the accused, Justice Walter Onnoghen says the CCT does not have jurisdiction to hear the case.
He added that the procedure for service was not adhered to based on the Administration of Criminal Justice Act, ACJA as Onnoghen was not personally served and he ought to be served.
The prosecution however, opposed Olanipekun's submission, maintaining that Justice Onnoghen ought to be around to plead guilty or not guilty.
Prosecutor Aliyu Umar, (SAN) disclosed that service was to done the CJNs Personal Assistant and there is no reason why the accused Justice Walter Onnoghen should not be in court.
CCT Chair Danladi Umar asks Olanipekun if he is saying that the CJN was not aware of the case as widely publicized but the defence counsel insists that the law must be followed and not hearsay.
Defence Counsel, Olanipekun insists that service was not properly done on CJN, Onnoghen adding that the CCT lacks jurisdiction to hear the case.
"I don't know why we are dissipating so much energy on this," he said.
The prosecutor team wants service of case to be done at most this week to Justice Walter Onnoghen, agreeing that it might not have been properly done initially.
However, the defence team says the time is too short. Olanipekun is asking for 28th of January for proper service and resumed hearing.
CCT Chairman, Danladi Umar orders that service should be done by Wednesday and hearing to resume on Thursday this week.
Defence Counsel Olanipekun however kicks, says the timing is too short to which Umar replied "I'm in charge of my court, not you."
This leads to a noisy situation in the court room but order is now restored and the case adjourned to Tuesday January 22nd 2019 for proper service and personal appearance of Justice Walter Onnoghen.
Download NAIJA NEWS app: