CJN Onnoghen's CCT Trial Stalls Judicial Activities At FCT High Court, Apo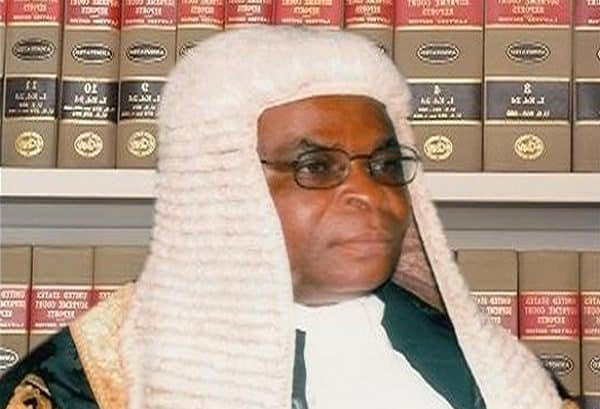 The arraignment of Justice Walter Onnoghen, Chief Justice of Nigeria (CJN) before the Code of Conduct Tribunal (CCT) over alleged infractions of the CJN's assets declaration earlier today stalled judicial activities at the FCT High Court, Apo.
As far as I know, Part II, Fifth Schedule of the CFRN , 1999 is explicit about the public officials who are subject to jurisdiction of the Code of Conduct Tribunal. Don't like it, argue with Abdulsalami Abubakar who foisted it on Nigeria.
+ No clause anywhere grants CJN immunity. pic.twitter.com/U4n043nBQJ

— Mr. Aye Dee (@MrAyeDee) January 13, 2019
Naija News gathered that most court rooms did not proceed with cases as earlier scheduled except the Governorship Election Petition Tribunal for Osun State.
Justice Onnoghen is being arraigned by the Code of Conduct Bureau (CCB) following a petition on January 7, alleging non declaration and false declaration of his assets between 2005 and 2016.
in governance the optics matter, if the alegations are true or not, thats left for the proper legal process to determine, but this could have been brought before now, and not few weeks to election, right now majority of Nigerians dont care if he is guilty or not, its the optics

— Lord Phoenix (@lordphoenix_ng) January 13, 2019
The petition lodged by Anti-Corruption and Research Based Data Initiative (ARBDI), drew the CCB attention to what it called serious concerns bordering on flagrant violations of the law and constitution of Nigeria by the CJN.
As earlier reported by Naija News, the case has been adjourned till January 22, for hearing on the jurisdiction of the CCT to hear the case as well as the personal appearance by Onnoghen.
Download NAIJA NEWS app: