Babachir Lawal Boasts About His Time In Office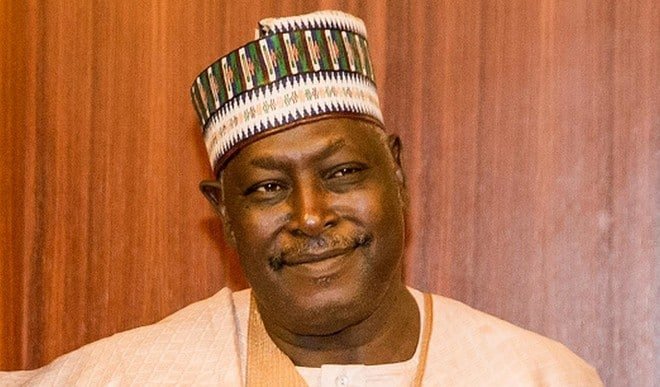 The immediate past secretary to the government of the federation (SGF), Babachir Lawal, said he did well while in office.
Naija News recalls that Mr Lawal was relieved of his duty by President Muhammadu Buhari in October 2017 after he was indicted for awarding contracts worth hundreds of millions of naira to his personal company.
According tho the Senate ad hoc committee He awarded the contract to remove invasive plant species from the Yobe state water channels.
Babachir sack followed the report of a three-man panel led by Vice-President Yemi Osinbajo that investigated him alongside the former Director-General of the National Intelligence Agency, Ambassador Ayo Oke.
However in a recent interview with TheSun, the former SGF said he did not have any regrets serving in Buhari's government.
"Why would I regret? I did well," he said.
Lawal, who is working for Buhari's re-election, said he does not know anything about the report that indicted him.
"I don't know the report. Have you seen the report? I have not seen the report. So, I don't know what is in the report. They didn't give me," the ex-SGF said.
"I didn't have access to President Buhari because he was president. I had access to President Buhari long before he became president. In fact, I am a family member.
"So, whether he is president or not is immaterial. I can walk into his house and ask for food and I will get food long, long, long before there were talks of Buhari being president. Long, long before then! So, being a president doesn't mean I have no access to him again."
When asked if he is ready to face trial, the ex-SGF said: "What do you think I should do if they decide to prosecute me? I do Dino Melaye or what do you want me to do?
"We will go to court. Let them go to court. If they take me to court, we will meet in court."
Lawal said Buhari will defeat Atiku Abubakar, presidential candidate of the Peoples Democratic Party (PDP), whom he described as a "Facebook politician."
"Atiku is a Facebook politician. He gets all these smart boys and gives them laptop or smart phone and they write. They write anything they like. And then you go back and say ah, I am very, very popular or they organise bogus survey," he said.
"Look, those who vote don't have smart phones, they don't have TV, and they just have in their minds that it is Buhari they want. The voter does not watch television.
"He doesn't have time even if there is electricity in his village or even if there is GSM network in his village. He doesn't have the money to buy data bundle. So, they are just deceiving people and just deceiving themselves, thinking that PDP has something and I think PDP, their campaign structure has disintegrated."
Meanwhile the disgraced former SGF seems to be warming his way back into the hearts of the Presidency as he was among dignitaries who graced the launch of a Together Nigeria organized by the Buhari Support Organization (BSO).