We Are Well Prepared For 2019 Elections, NSCDC Commandant Says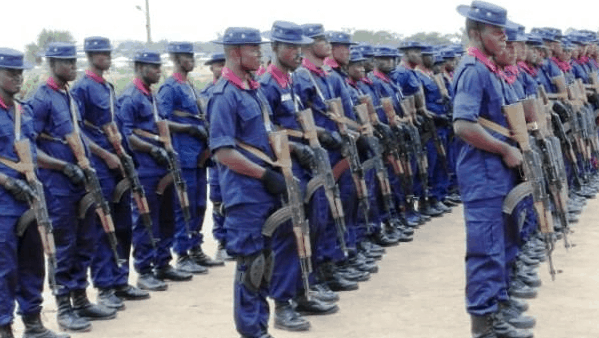 The Nigeria Security and Civil Defence Corps (NSCDC) says it will deploy over 2,500 personnel in Cross River to monitor the forthcoming elections in the state.
Naija News learnt that NSCDC Commandant in the state, Mr Stephen Lar, disclosed this on Friday during a meeting with Heads of Units and Divisional Officers of the Corps at the State Command headquarters in Calabar.
Lar explained that officers and men of the corps had been adequately trained and educated for the 2019 polls. He said that NSCDC was also saddled with the responsibility of monitoring elections alongside other security agencies in the country.
According to him, the divisional officer and commanders operate at the grassroots level; hence they will play a vital role in the supervision of the polls in their respective local government areas.
"As we prepare for the 2019 polls, NSCDC in Cross River is going to deploy over 2,500 personnel to monitor the election in February and March."To this end, all hands must be on deck to ensure that we work hand in hand with other security agencies to ensure crisis free 2019 polls.
"We will monitor the election before it takes place. Intelligence gathering is very important. I urge you to get information on areas that are vulnerable to crisis during the election so that it can be nipped in the bud.
"Because we are grassroots security outfit, we are supposed to be very proactive. We do not have to wait until when all evil plans have been hatched before we start working, no,'' he said.
He urged officers to serve as intelligence personnel within the electioneering period by identifying bad eggs and keeping them under close monitoring to ensure crisis free election.
"As a security officer, you have no business with ballot boxes. You must maintain a particular distance from the voting ground and make sure hoodlums do not snatch any ballot boxes."When you notice crisis, it is your duty to calm the situation by making sure the election process is not interrupted.
"We are going to deploy arms equally to provide protection for you in case of any emergency. We are going to work according to the guidelines stipulated by INEC,'' he said.
The commandant warned them against receiving gratification from politicians who may want the process to go in their favour, adding that anyone found in such illegality would be shown the way out of the service.
"I want to advise all of you here to shun all forms of corrupt practices during and after the elections. Some of these politicians may want to entice you with some money so that you can keep away and allow them perpetrate evil. "I want to warn all of you seriously, anyone caught taking gratification whether inform of money or whatever, during this election, will be shown the way out of the system,'' he added.
Download NAIJA NEWS app: