Ekiti PDP Local Councils Denies Alliance With Biodun Olujimi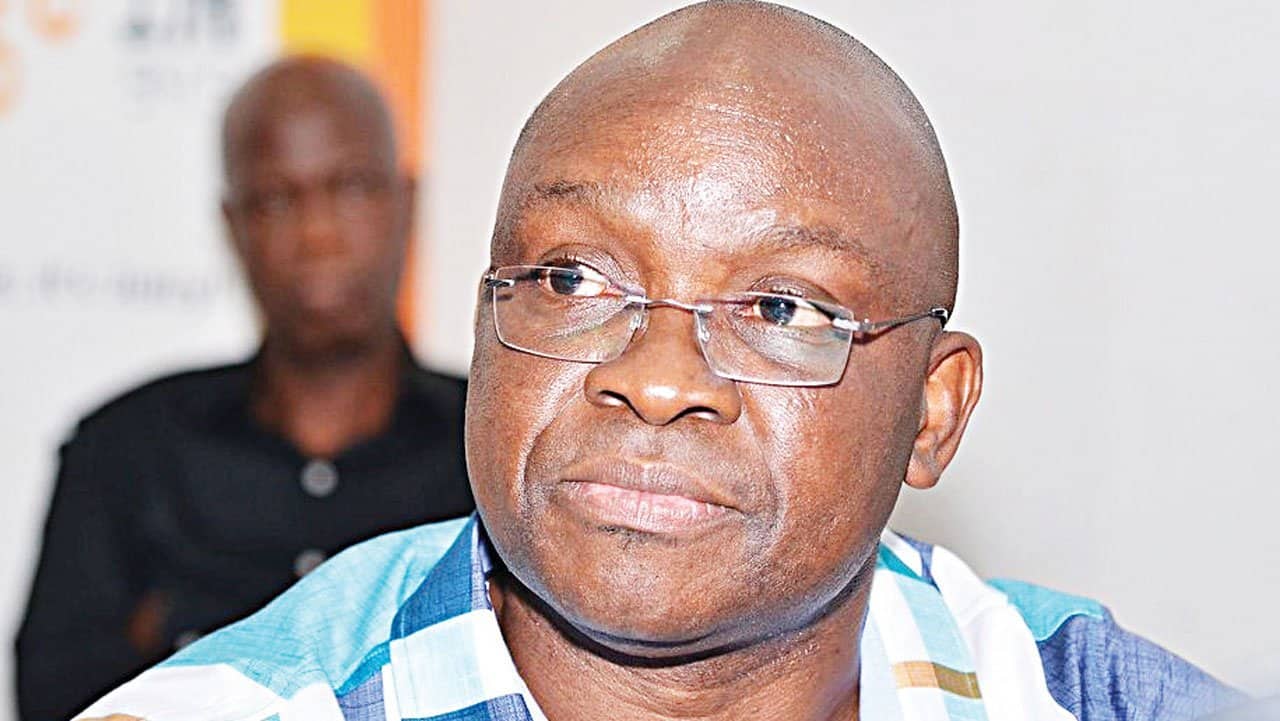 The 16 elected Peoples Democratic Party (PDP) Local Councils Chairmen in Ekiti State have decried the alliance of the Senate Minority Leader, Biodun Olujimi, with members of the State House of Assembly that suspended them from office.
The statement was revealed in a press release that was made available to Naija News by Lere Olayinka.
The council chairmen, who were illegally suspended from office alongside the 177 councilors said in a statement issued on Friday, and signed by Chairman of the All Local Government Association of Nigeria (ALGON) in the State, Hon. Dapo Olagunju, that they were miffed that Olujimi, who claimed to be working for the Peoples Democratic Party (PDP) interest had always been comfortable in the company of supposed PDP members of the State House of Assembly who sacked duly elected council chairmen and councilors who are members the party.
According to Olagunju, "all the 16 duly elected council chairmen are in support of the PDP Presidential Campaign Council inaugurated on Tuesday, by former Governor Ayodele Fayose and the State Chairman of the party, Chief Gboyega Oguntuase and no genuine lovers of the party in Ekiti State will be comfortable dining and wining with supposed PDP assembly members who despite being in clear majority, ceded the Speaker to the APC with just three members."
He said the question our party members and supporters must ask Senator Olujimi are; is it in the interest of the PDP that 16 council chairmen, 16 vice chairmen, 16 secretaries, 64 supervisors, 32 advisers and 177 councilors who are members the party be removed from office one year to the expiration of the tenure?
Should such illegal removal be championed by assembly members who are still claiming to be PDP members? And most importantly, should Olujimi, be acting like the godmother of these same assembly members who caused the party the loss of over 300 elected officers and appointees at the grassroot level?
The chairmen, who insisted that they were still the legally recognized chairmen of the 16 local councils in Ekiti State said they remained solidly behind Fayose and will work assiduously with the Atiku/Obi
Presidential Campaign Council inaugurated on Tuesday.
They said it was inimical to the interest of the party for Senator Olujimi to have inaugurated a parallel campaign council even when the State Party Chairman, Chief Gboyega Oguntuase; Prof Kolapo Olusola that was named as Chairman; two senatorial candidates, all the six House of Reps candidates, 25 out of the 26 House of Assembly candidates, council of elders, among other critical stakeholders were attending the properly constituted council.
The chairmen, who counseled Senator Olujimi to retrace her steps and return to the Fayose political family that made her, called on members of the public to ignore the illegal committee set up by her.
Source: Naija News