Top Nigerian Newspaper Headlines For Today, Tuesday, 1st January 2019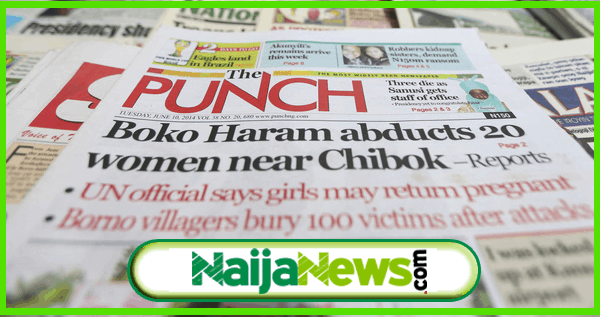 1. President Buhari tell Nigerians to expect a better 2019
President Muhammadu Buhari has extended his appreciation to Nigerians for their support since he became president in 2015, soliciting for more support.
The president assured citizens of the country of his commitment to to continue to fulfill campaign promises and ensure better living condition for Nigerians.
This, the president said in his new year message, while congratulating Nigerians for successfully transiting from 2018 to 2019.
2. Saraki lied about donating N10m to Offa robbery victims – Lai Mohammed
Minister of information, Lai Mohammed, has urged Senate President Bukola Saraki stop making false declaration about the Offa robbery incident.
This Mohammed said while reacting to a comment made by Saraki's aide that he donated a sum of N10 million to the victims, not to play politics with the incident.
3. NLC threatens prolonged nationwide strike over minimum wage
The Nigeria Labour Congress (NLC) yesterday reiterated its resolve to proceed on a prolonged nationwide strike over the failure of the government to implement the new minimum wage of N30,000 for Nigerian workers.
President of NLC, Comrade Ayuba Wabba, in a new year message to Nigerians, said the union remained committed to fighting for the welfare of Nigerian workers.
4. 2019: Aisha Buhari Appointed Chairperson Of APC Women And Youths Presidential Campaign Team
Mrs Aisha Buhari, wife of President Buhari, has been appointed the Chairperson of the All Progressives Congress Women and Youths Presidential Campaign team for the 2019 election.
Mrs Dolapo Osinbajo, wife of the Vice President, has also been appointed as the Co-chairman of the campaign team.
5. Badeh, Alkali were killed to cover up corruption in military – Group
A Washington-based group, International Strategic Studies Association, has stated that the death of a former Chief of Air Staff, Air Chief Marshal Alex Badeh, and that of a former Chief of Administration of the Nigerian Army, Maj.-Gen. Idris Alkali, were not mere coincidences.
ISSA, a non-governmental organisation with a worldwide membership of professionals involved in national and international security and strategic policy, stated in a special report on Friday that the two men were killed to hide what it described as the pattern of corruption in the current military leadership in the country.
6. Atiku challenges those saying he is corrupt to report him to EFCC
The Candidate of the Peoples Democratic Party (PDP), Atiku Abubakar, has dismissed corruption allegations leveled against him.
He challenged those that have accused him of corruption to make their case known before the Economic and Financial Crimes Commission (EFCC).
7. Police vow not to leave Melaye's house until he is arrested
Jimoh Moshood, Police public relations officer, has yesterday night said officers Abuja residence of Senator Dino Melaye, representing Kogi west until he surrenders.
Police men have surrounded Melaye's house since Friday, while attempting to arrest him over culpable homicide.
8. Nigeria now has 35miliion tax payers – JTB
The Executive Secretary of the Joint Tax Board (JTB), Mr Oseni Elamah has disclosed that the database of taxpayers in Nigeria has increased from 20 million to 35 million.
According to him, the great feat was achieved as a result of the ongoing database consolidation of JTB, being carried out in collaboration with the Nigeria Inter Bank Settlement System (NIBSS).
9. Powerful individuals planning to stop Igbo presidency in 2023 – APC
The leadership of the All Progressives Congress (APC) in the South East has accused some high profile persons of plotting to frustrate the Igbo's bid to have someone from their region succeed President Muhammadu Buhari IN 2023.
This was made known on Sunday by the National Vice Chairman (South East) of the APC, Emma Eneukwu, at the party's zonal stakeholders' meeting.
10. Nigerian refineries lose N96bn in nine months
The Federal Government-owned refineries lost N96.34bn from January to September 2018 as against N95.09bn in 2017, says the Nigerian National Petroleum Corporation (NNPC).
Nigeria has three refineries located in Port Harcourt, Kaduna and Warri with a combined installed capacity of 445,000 barrels daily.
Read more Nigerian news here on naijanews.com