2019 Election: Nigerian Army Introduces Nationwide Operation Python Dance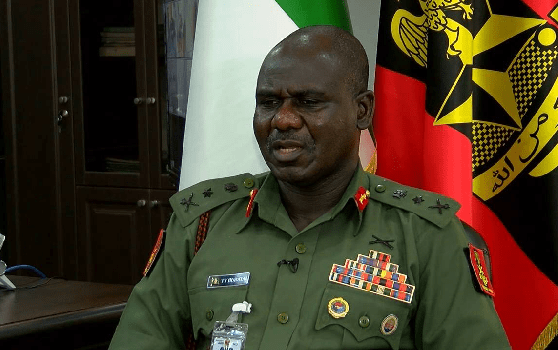 Army Announces Exercise Python Dance 3
The Nigerian Army has announced plans to commence Exercise Egwu Eke 111, otherwise known as Python Dance, in all parts of the country to curb security challenges during the 2019 general elections.
The Chief of Army Staff, Lt. Gen. Tukur Buratai, stated this on Friday at a flag-off ceremony in Maiduguri, Borno State.
He further disclosed that the exercise would run from January 1, 2019 and last till February 28, 2019 which effectively covers the period of the 2019 elections.
Read his full speech below:
"I am delighted to be here in Maiduguri today to flag off Exercise EGWU EKE III. "EGWU EKE" is an Igbo phrase meaning "PYTHON DANCE". Exercise EGWU EKE I and II took place in year 2016 and 2017 respectively in the South Eastern Region of our country. It yielded positive results in checkmating the security challenges being witnessed in the region then. Exercise EGWU EKE III is significant because for the first time it will be conducted simultaneously across the country. It is also a reassurance of the resolve of the Nigerian Army and indeed the entire Armed Forces of Nigeria as well as other security agencies to ensure that law and order is maintained as we approach the forthcoming 2019 General Elections."
"The Nigerian Army will continue to conduct Internal Security operations in combating criminality and other security challenges in the country, in line with its constitutional mandate of Military Aid to Civil Authority. As the build up to the 2019 General Elections gathers momentum, an upsurge of security challenges such as stockpiling of arms by criminal groups, formation of ethnic militias and violence induced by political activities has been observed."
"These challenges coupled with other security threats across the country such as terrorism, militancy, kidnapping and banditry portend that dissident groups and criminal elements could cash in on the situation to perpetrate large scale violence before, during and after the 2019 General Elections. Drawing from the my vision "To have a Professionally Responsive NA in the Discharge of its Constitutional Roles", the NA troops need to be prepared and equipped with requisite skills in order to professionally and effectively respond to these challenges and security threats in collaboration with Nigerian Police and other para-military organisation."
"The successes recorded so far in all conducted Nigerian Army level exercises is fulfilling both training and ops objectives of the Nigerian Army. I also believe Exercise EGWU EKE III with its mandate of combating the upsurge of security challenges as we approach the 2019 General Elections will be a success.
"Let me use this opportunity to call on the good people of our great nation Nigeria to provide our men and women in uniform adequate support especially timely information to enable them deliver on the mandate of Exercise EGWU EKE III. I want to also reaffirm the commitment of the Nigerian Army in the fight against terrorism and insurgency in our country. I wish you all well, as we flag off Exercise EGWU EKE III which will be conducted across the 6 geopolitical zones of the country from 1 Jan to 28 Feb 19."