Atiku Ignorant On Economic Issues – BMO Reacts To His Comment On 2019 Budget.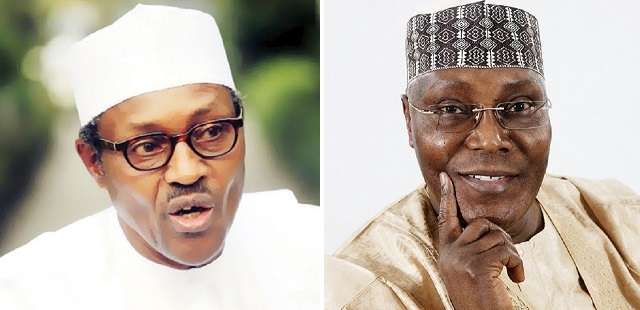 BMO  Says Atiku Is Ignorant, As Far As Nigeria's Economy Is Concerned.
The Buhari Media Organisation has fired back at the Presidential candidate of the Peoples Democratic Party, Atiku Abubakar, over his comment on the 2019 budget proposal.
Atiku had given six reasons why the budget would not work and concluded in a statement that Nigeria had not exited recession, Naija News reports
In reaction, a statement by BMO Chairman, Niyi Akinsiju, and Secretary, Cassidy Madueke, said Atiku's position had proved that his knowledge of economic principles was questionable.
The group said President Muhammadu Buhari deserved commendation for paying pensioners, who the PDP government abandoned after selling the companies they worked when Atiku headed the National Council on Privatisation and Commercialisation during the Olusegun Obasanjo administration.
The statement read, "How could a man described as one with economic know-how say a country whose Gross Domestic Product stood at 1.81 per cent in the third quarter of 2018 compared to 1.17 per cent the previous year had not exited recession?
"Even his statement that indicated that there was a 1.5 per cent growth in the second quarter of 2018 is a clear pointer to a sure and steady growth backed by a non-oil GDP growth of 2.01 per cent in the same quarter as a result of the current administration's faithful implementation of its Economic Recovery and Growth Plan.
"In addition, we have had three budget cycles since 2015 that have spurred on massive infrastructural growth with 1,531 kilometres of roads constructed and 1,008 kilometres rehabilitated across the country as well as a massive railway construction, yet the PDP presidential candidate wants Nigerians to believe that the 2019 budget proposal and the previous ones were bad.
"We make bold to say that contrary to Atiku's position, the budget will build on the sure and steady progress the country has witnessed in so many facets of life and attain the 2019 projection of 3.01 per cent growth."
The group added, "It will be recalled that the PDP presided over what would go down in history as one of the worst times in the country's political history.
"After years of higher oil revenue, the PDP ensured that over 100 million Nigerians were living on less than $1 a day in 2012 as confirmed by the World Bank.
"Nearly 61 per cent of Nigerians were living in extreme poverty at that time while an audit report by the Nigeria Extractive Industries Transparency Initiative showed that the country earned $62.9bn that same year."
"It was around this time that over 800 companies shut down and tens of thousands of Nigerians were pushed into the unemployment market, and that did not include government-owned enterprises that were privatised under the supervision of Atiku Abubakar between 1999 and 2007."
Source: Naija News