Biafra Leader, Nnamdi Kanu Speaks On Badeh's Death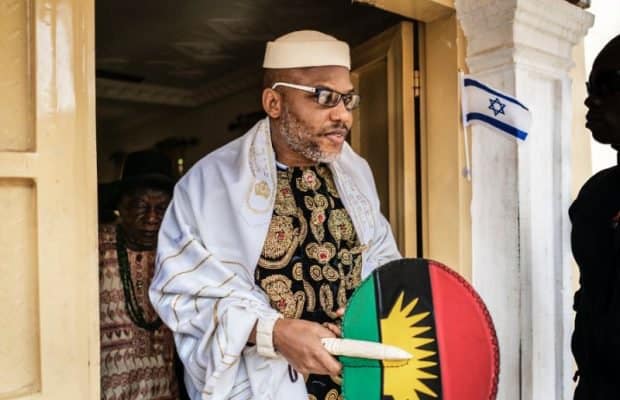 Nnamdi Kanu, leader of the proscribed separatist group, Indigenous People of Biafra (IPOB), yesterday spoke about the encounter he had with slain former chief of Defence Staff, Alex Badeh, while in Kuje prison.
Naija News recalls that Badeh, the immediate past Chief of Defence Staff of the armed forces of Nigeriawas murdered on Tuesday 18 December while returning from his farm along Abuja-Keffi Road.
Speaking on the gruesome murder of the 4-star General, Kanu during a live broadcast on radio Biafra on Saturday, alleged that the late Chief of Air Staff was killed on the instructions of some persons in government.
Kanu who claimed to have an encounter with Badeh, said he told the late Air chief that Nigeria cannot work but he (Badeh) insisted that Nigeria will work.
Mr Kanu said: "I met Alex Badeh in Kuje or he met me in Kuje prison and we had a brief discussion. Those that were there know what I discussed with him.
"I told him Nigeria will never work, but he told me no, Nigeria will work, your senior brother is my friend. My senior brother is Air Marshal."
"Alex Badeh is dead and nobody is investigating his death. Nobody is calling him a hero. Alex Badeh was brave." He added.