Christmas Holiday: FRSC Arrests 50 Traffic Offenders.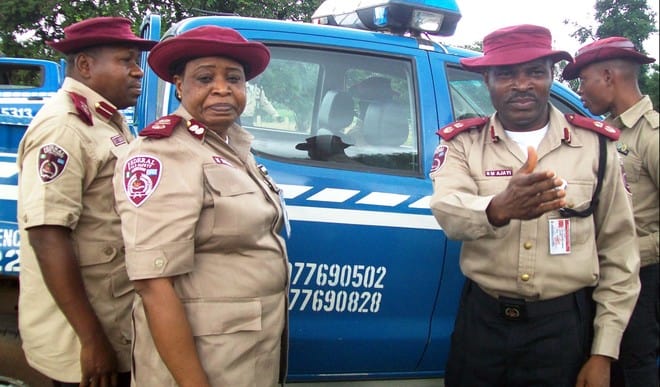 FRSC Sanctions 50 Traffic Offenders In Ibadan.
The Federal Road Safety Commission (FRSC) mobile court in Oyo State has arrested 50 traffic offenders in Ibadan as part of strategies to ensure safety during the yuletide season.
Naija News recalls that the FRSC had warned that it will take offences committed during the Yuletide seriously.
Mrs Cecilia Alao, the state FRSC Sector Commander confirmed that offenders were arrested during the exercise in Egbeda area of Ibadan today.
Their offences, according to Mrs Alao include overloading and dangerous driving among others.
The sector commander said the mobile court was a shift from normal patrol operation where motorists apprehended for various offences were given tickets to go and pay.
Alao said the arrested motorists were arraigned in the presence of a magistrate, adding that the magistrate used his discretion to fine or sentenced the offenders.
She said it was the discretion of the magistrate of the mobile court to either remand in prison those that failed to meet the fine until they paid or release them without paying any thing.
"So far we have apprehended 50 vehicles for violating various traffic offences ranges from overloading, driving without licence, use of expired tyres and dangerous driving among others.
"This exercise, starting today will end on Jan. 15 and we hope it will serve as deterrent to road users.
"Most of these vehicles arrested are passengers' vehicles who are carrying six passengers instead of four.
"And in case of any eventuality there will be no space for the driver to maneuver and we don't what this to happen.
"Our aim is to ensure people drive safely during this period and obey the traffic rules and regulations for their safety,'' she said.
The sector commander said the FRSC in Oyo State would be deploying over 800 personnel including the Special marshals during the season.
Mr. Alao said that 26 operational vehicles and ambulances would also be deployed on the roads in case of any emergency.
One of the offenders, Mr Isa Muraina said he was arrested for dangerous driving and was fined eight thousand naira.