Top Nigerian Newspaper Headlines For Today, Tuesday, 18th December 2018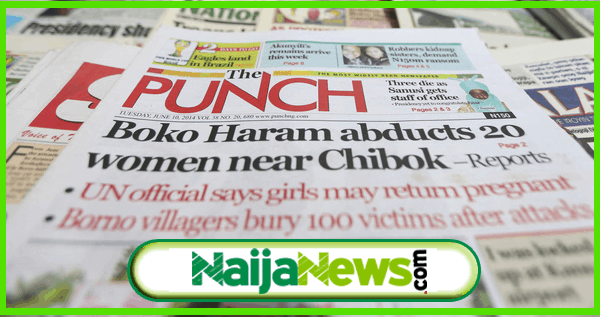 1. Give me more time, Buhari beg Nigerians
President Muhammadu Buhari has called on Nigerians to avail him more time to execute the plans he has for the country.
Buhari said this after a special parade that the guards brigade of the Nigerian army organised in commemoration of his 76th birthday.
2. National Assembly workers commence strike in protest of non payment of salaries
National Assembly workers, under the Parliamentary Staff Association of Nigeria this Monday made good their threat to commence a four day warning strike.
Naija News learnt that the workers gathered as early as 6:30am on Monday to close all entrances leading to the national Assembly complex.
3. Buhari blames Jonathan for delay in appointing cabinet
Garba Shehu, presidential spokesman, has blamed ex-President Goodluck Jonathan for President Muhammadu Buhari's delay in appointing members of his cabinet.
Shehu who was speaking on a TV interview programme on Monday, said the refusal of Jonathan's government to cooperate with the transition committee had a negative effect on the current administration.
4. SSANU commences 3-day warning strike
The Senior Staff Association of Nigeria Universities (SSANU) on Monday, commenced a three-day warning strike over what it described as federal government's disobedience to a court judgment.
The union accused the government of failure to obey the court order on staff schools, earned allowance and other agreements.
5. Diamond bank and Access bank confirm merger talks
The management of Diamond Bank as well as Access Bank have officially confirmed the merger process between the two banks, puting an end to earlier speculations.
Both organizations released official confirmations in different statements on Monday, 17th December.
6. Nigerian Army threatens to shut down Amnesty International in Nigeria
The Nigerian Army has said it may be forced to close down the Amnesty International offices in Nigeria, alleging there is credible evidence the organisation is working hard to destabilize the country.
This comes three days after the army accused UNICEF of aiding terrorism in the North-east and suspended its activities till further notice before it took back its suspension and explained that the army changed its decision after the intervention of "concerned Nigerians."
7. Kwankwaso conclude plans to return to APC
Senator Rabiu Musa Kwankwaso, a former governor of Kano state, has reportedly concluded plans to return to the All Progressive Congress from the opposition People's Democratic Party.
The Senator, who represents Kano central in the upper legislative house in Abuja, is also said to have been sending people to the presidency to prepare grounds for his return to the APC.
8. NLC tell governors to include minimum wage in their 2019 budget
The Nigeria Labour Congress (NLC) has urged Governors to include the payment of the new national minimum wage in their 2019 Appropriation Bills.
This, according to NLC, will be the only way to avoid friction and crisis in the new year, adding that the state governments are buoyant enough to pay the N30, 000 being demanded for workers as minimum wage.
9. Atiku promises to appoint youth minister less than 30 years
PDP presidential candidate, Atiku Abubakar has promised to appoint a youth minister less than thirty years old if he is elected President of Nigeria in 2018.
He made the promise during a town hall meeting in Lagos state with stakeholders on Monday.
10. Again, ASUU and FG fail to reach agreement on strike
The Academic Staff Union of Universities (ASUU) on Monday continued with it strike action as the union failed to come to an agreement with the Federal Government.
Prof. Biodun Ogunyemi, ASUU President, after the two hours meeting, refused to speak to the press, but instead referred them the the Minister of Labour and Employment, Sen. Chris Ngige.
Read more Nigerian newspapers here on naijanews.com