PDP Chieftain Speaks On How Northern Elders Forum Will Influence 2019 Presidential Election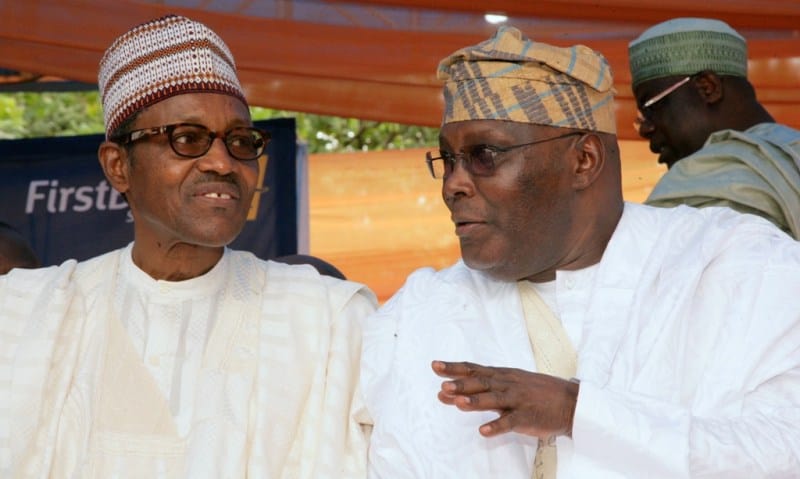 Politician Weigh Chances Of Buhari vs Atiku
In the view of a member of the Peoples Democratic Party, Board of Trustees (BoT), Chief Sam Nkire, the rejection of President Muhammadu Buhari by the Northern Elders' Forum on grounds of low performance in office will give Atiku Abubakar an edge in the 2019 presidential poll.
Chief Nkire, a former Deputy Chairman (South) of the Reformed All Progressives Congress (R-APC) told Daily Trust, yesterday, in a telephone chat that the decision of NEF would add value to Atiku's campaign and subsequently drive him to the Presidential Villa.
He argued that Atiku had ties with critical stakeholders in the polity and was in the good books of the electorate in all the geo-political zones of the country, a development that would give him an edge.
But a foundation member of PDP, Alhaji Aminu Yakudima, also in a telephone interaction with Daily Trust said the Northern Elders were divided into three and would hardly take a binding decision.
"I don't think the rejection of President Muhammadu Buhari by some members of the Northern Elders' Forum is a threat to his political ambition; I mean achieving a second term bid. The forum does not hold the entire Northern Nigeria firmly.
"Again within the organisation, there is division. And do not forget, there are splinter groups with the same vision. We have the Northern Elders' Council, which is replicating the activities or the objectives of the Northern Elders.
"There is in place also, the Northern Elders and Stakeholders Assembly which has the same objectives; so some are for Atiku while some are for Buhari. Some are neutral. So achieving cohesion in Northern Nigeria will never hold as far as they are concerned.
"Again, most of them don't even vote. They play the role of who controls the controller. But you can hardly capture them in camera voting for any candidate in an election but they take decisions on the pages of newspapers," he said.
"However, I can advise that Atiku and Buhari should not lose sleep because of support coming or not coming. Atiku should not celebrate because he has gotten this endorsement. Buhari on the other hand should not lose sleep because within the rank and file, they are divided," he added.