Tinubu Not Behind The Choice Of Adelabu – Ajimobi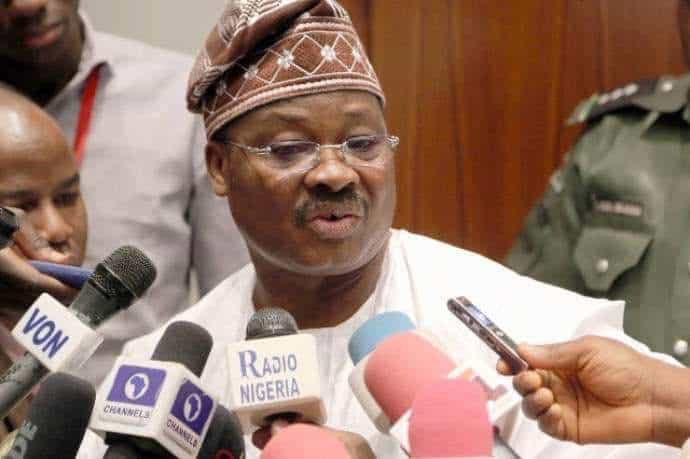 Governor Abiola Ajimobi has revealed that, Mr Adebayo Adelabu, the governorship candidate of the All Progressive Congress APC was not imposed on him or the state by the National leader of the APC, Asiwajo Bola Ahmed Tinubu.
Reiterating that it was God's guidance and leading that resulted in the emergence of the party's choice, Governor Ajimobi said the opposition party's flagbearer making the insinuation should be more worried about a non-Yoruba in the person of the National Chairman of the Peoples Democratic Party (PDP) who chooses and determined the party's choice for the election.
The governor had earlier refuted media report that he collected a whooping sum of $10 Million from the candidate for handing him the ticket.
Ajimobi, a senatorial candidate, made this known at the flag-off of the governorship campaign rally at an event which held at the Oke Ado state party secretariat, Ibadan.
The event was largely attended by party leaders, elders, party faithful and candidates for all elective positions, including the governorship flagbearer and his running mate, the three senatorial candidates, 14 House of Representatives candidates and the 33 House of Assembly candidates. The governor also handed over the party's flag to Adelabu and his running mate, Mr Samuel Egunjobi.
While explaining how the choice of Adelabu was made, the governor insisted that it was God who already predestined the former CBN deputy governor to succeed him but only used him (Ajimobi) and the party leaders to achieve it.
He also appealed to all other aspirants, who jostled for the ticket with the flagbearer to forgive him and embrace him to achieve success at the polls. He assured them that the party's flagbearer will deliver and take the state higher.
He said: "Before I said Adelabu would be the governor, God spoke to me. And some people said it was Tinubu who told me. Please is Tinubu living in Ibadan with us? Even if Tinubu had even told me, is it not better than Secondus, who is an Igbo man, to tell them who should be their flagbearer?
"You all should know that with all these that we are doing, God is really with us because when we started, what we asked God was that if we will do well, God should help us to get there and if we won't do well, he shouldn't allow us to get there. How many politicians can say that? It is almost eight years and you all can see how well we have done.
"Before we came into power, when they tell you someone is an NURTW member, do you stay close to him? How well do you pass through Iwo road and other places around town? Is it not in fear and anxiety? But the story has changed. There is peace and even the NURTW members are now peaceful and gentle people.
"God sees my heart. It is God who made us choose Adelabu. All those who aspired for the ticket, there was nobody among them who was not qualified. We had people with first class and second class in various fields, but the scripture must be fulfilled.
"Among all those who contested for the ticket, God told me that I should pick the youngest person in age and when you look at the bible for the story of David, you will understand better.
"Please, the remaining of you that you contested for the post, I beg you to forgive me. Adelabu did not put himself there, God put him there. He only used us to get there and I assure you, he will not misuse it."
Download Naija News App. Advertise with us. Send us enquiries and press releases.