Aviation Unions Protest Five To Fifteen Years Owed Salaries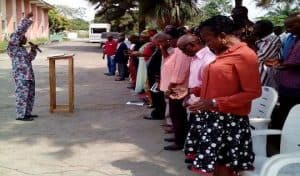 Workers Stage Peaceful Protest At Nnamdi Azikiwe International Airport Abuja
Aviation unions have staged a peaceful protest at the Nnamdi Azikiwe International Airport Abuja to demand for their owed allowances that span between five to fifteen years.
The unions under the auspices of Air Transport Senior Staff Association of Nigeria (ATSSAN) and the Nigerian Union of Air Transport Employees (NUATE),yesterday marched from the General Aviation Terminal to the international terminal carried placards that said "no condition of service, no election" among others.
The protesting workers accused the Salaries and Wages Commission over the non-payments of their entitlements.
Addressing the gathering, the ATSSSAN Chairman, FAAN Chapter Abuja Com. Wuyep Samuel Saul said the delayed payment of their allowances is unacceptable and they will disrupt the elections.
He warned the authorities against taking them for granted.
Comrade Otori Sunday, an Ex-Officio, NUATE, FAAN Branch said "when we say no condition of service, no election, they shouldn't take us for granted. This is the federal capital territory, this is the airport and this is where the INEC headquarter is. FAAN, NAMA, NCAA and NiMet controls the airport. This is where all the electoral materials will pass through. If we shut down the airport, let's see how they will distribute the materials," he said.
Giving more details, Mr. Chris Omagbemi, NUATE third National Vice President said "the condition of service of all Aviation agencies are being held hostage by Salaries and Wages Commission for between five to fifteen years."
"By this protest, we are sensitising the government and citizens that the salaries and Wages Commission has become a demigod. If tomorrow we decide to go on full scale strike, this is why" he said.
The allowances affects the Aviation agencies – The Nigerian Civil Aviation Authority, Nigeria Meteorological Agency (NiMet), Federal Airports Authority of Nigeria (FAAN) Nigeria Airspace Management Agency (NAMA) and the Accident Investigation Bureau (AIB).
He said "before now, the Salaries and Wages Commission said they want to harmonise the allowances of FAAN, NAMA and NCAA but we said it's not possible because the job descriptions are different. For instance, you can't harmonise the allowances of a fire officer and an air traffic controller. Their jobs are different. They've been owing NiMet staff allowances since 2003. The Commission keeps reviewing and giving flimsy excuses" he explained.