Boxing: Floyd Mayweather Wants To Show Up Against Tenshin Nasukawa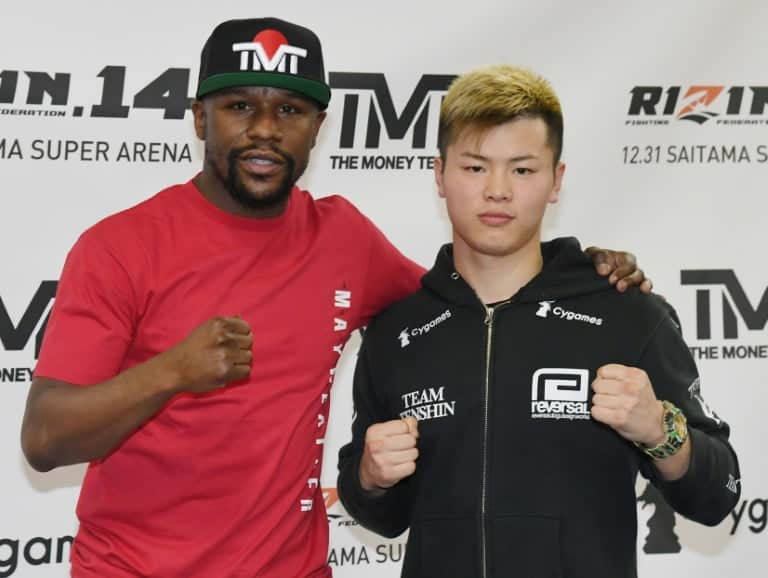 American boxing legend Floyd Mayweather called Thursday his controversial show-fight, which he canceled at first, before turning his back on Japan's kickboxing champion Tenshin Nasukawa on Dec. 31 in Japan.
"It's a great way for me to do something different and provide entertainment to the public, it's an exhibition," Mayweather told a news conference in Las Vegas.
"I love to face people who come from different backgrounds since I'm an amateur, it's entertainment, nine minutes of entertainment, I'm in this business now, that's why I train and I'm going offer a show for three times, " continued the one who remained undefeated throughout his professional career (50 wins, including 27 before the limit) and who was crowned champion in five different weight classes.
The organizers said that this fight would be contested according to the rules of boxing, without referee, with a weight limit of 67.7 kg, but that it would not enter the official charts of Mayweather and Nasukawa.
At the beginning of November, Mayweather, retired from the rings since an already controversial fight against mixed martial arts star Conor McGregor in August 2017, surprised the world of boxing by coming out of retirement for a second time to face Nasukawa, unknown in the United States. and out of Japan.
Two days later, he announced that the fight was canceled because he had been deceived by the Japanese organizers.
On November 17, the fight was finally confirmed, but was presented as an exhibition.
Mayweather, 41, has raised nearly $ 1 billion in rings during his career, earning him the nickname "Money" and being for a long time every year the highest paid sportsman on the planet.
He will touch for this fight a plump sum he refused to reveal.
His opponent, 21, his junior, warned that he wanted to "make a big impression".
"I want the world of combat sports, Japan and the world to follow this fight, I approach it by believing in my chances and wanting to show who I am," insisted Nasukawa who is undefeated in 28 kickboxing fights , discipline where kicks are allowed.