Boko Haram Killed 20,000 Displaced Many Others In 10 Years – Osinbajo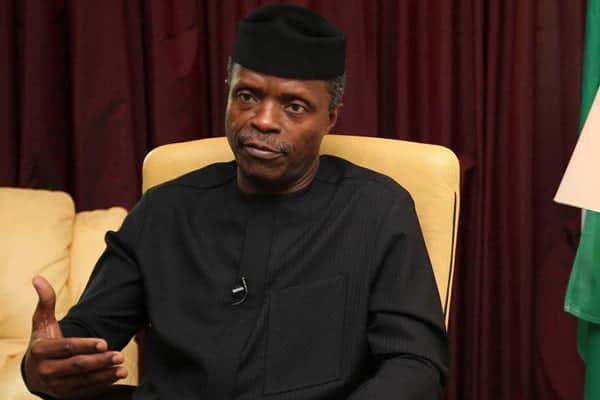 Professor Yemi Osinbajo, the Vice President of Nigeria, has on Thursday revealed that Boko Haram insurgence has caused Nigeria about 20,000 lives and $9 billion worth of infrastructure in ten years.
Osinbajo made this revelation at an intervention initiative tagged 'Inclusive Basic Service Delivery and Livelihood Empowerment Integrated Programme' by the African Development Bank in Abuja on Thursday.
He added that 2 million people have become displace as a result of the war against insurgence.
He said, "There is no doubt that the havoc that the Boko Haram insurgency has wreaked on the North-East Nigeria and the entire country is unprecedented in recent Nigeria's history.
"Over the last decade, more than 20,000 persons have been killed and $9bn infrastructure destroyed, including more than 400,000 houses and thousands of schools, hospitals and other public buildings. And more than two million Nigerians have been displaced from their homes and communities.
"But the devastation is only a part of the narrative; it is definitely not the entire story. There are the countless stories of heroism and resilience, from the victims of the insurgency, from the troops of the Nigerian Army and the Civilian Joint Task Force, all of who are out there fighting and sacrificing a great deal to keep us safe.
"For me, these stories of resilience and hope and optimism deserve a lot more attention than they are currently getting."
He added that the rate of killings in the region has reduce by 83 per cent from it 2014 peak.
He said, "This year alone, the Nigerian Army's Operation Last Hold has helped 35,000 people voluntarily return to their homes and communities and commence the task of rebuilding lives and livelihoods.
"This is not to say there are still no challenges or that we are satisfied with where we are. Certainly not; indeed, if there were no challenges left, we would not be here today to launch the IBSIP.
"In 2016, we unveiled the Buhari Plan, a comprehensive blueprint for the recovery and reconstruction of the region. The plan established the Presidential Committee on the North-East Initiative to coordinate all efforts by state and non-state actors, domestic and international, to comprehensively address the economic, social and humanitarian crises in the region.
"At the core of our efforts is the conviction that humanitarian interventions are not by themselves enough to bring about a radical transformation of the circumstances of the North East region.
"We believe in an approach that combines both humanitarian and developmental interventions, which means combining short-term remedies targeted at vulnerable populations with solutions that look well ahead into the future and address medium and long term challenges.
The AfDB disclosed that the idea would curb fragility aggravated in the region by Boko Haram.
AfDB Senior Director, Nigeria Country Department, Ebirima Faal, who represented the President, Dr Akinwumi Adesina, said that the programme addressed the improvement of quality of life of the population of North-East Nigeria through restoration of basic services.
He said, "It ensures equity by providing access to basic services for all. It also incorporates special gender considerations by ensuring that women are active participants in all stages of the project and providing training for women and youth entrepreneurs to increase their chances for employment and business opportunities."
Download Naija News App. Advertise with us. Send us enquiries and press releases.