Rivers APC Uncovers Plot By Gov. Wike To Blackmail APC, Lloyd And Flag-Amachree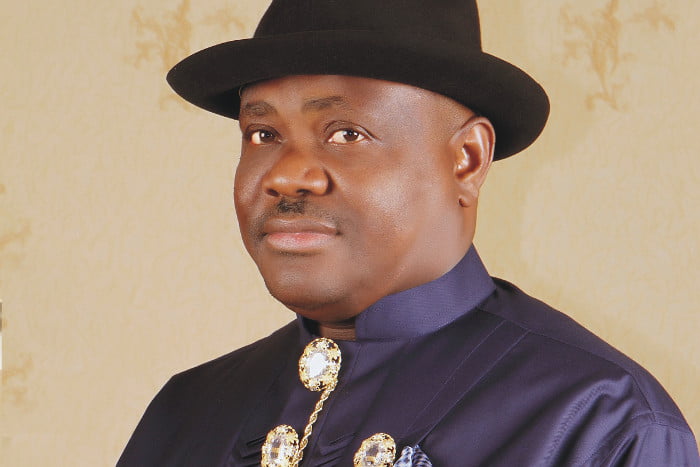 The Rivers State chapter of All Progressives Congress, APC, has uncovered an ongoing plot by Gov. Nyesom Wike, Chief of Staff, Government House Port Harcourt, Emeka Woke and others to blackmail APC, Chief Chidi Lloyd and Hon. Ojukaye Flag-Amachree.
I knew something was fishy with report from the @HQNigerianArmy. Lagos State has it own Lagos State neighbourhood watch, so why can't Rivers State have its, if RHOA has signed off on it? The Army should stay away from being used for political gains and remain Apolitical.

— Dannessy (@Dann_10) November 30, 2018
Rivers' APC in a statement signed by the Party's spokesman, Senibo Chris Finebone and made available to Naija News  today alleged that, "the plot which was hatched and being perfected in the office of the Chief of Staff, Emeka Woke, involves the printing of APC logo on T-shirts and handing same to select Neighbourhood Watch recruits who will go to carry out protests and violence in some predetermined local government areas to give the impression that such protests are being carried out by APC youths over the ongoing persecution of Chief Chidi Lloyd and Hon. Ojukaye Flag-Amachree by the Rivers State Government under Nyesom Wike."
It noted that "the ultimate objective of the plot is to inundate the local, national and international media with the false information purporting same to be the handiwork of APC. The governor and his people will then draw the attention of the public especially that of the diplomatic and international communities to a purported spate of violence by the APC in order to give the party and the federal government a bad name."
The statement reads: "The APC has no reason to embark on any exercise that will engender violence in Rivers State. Any matters concerning Chief Chidi Lloyd, Hon. Ojukaye Flag-Amachree and indeed any other member of APC remain matters that will in due time be dispensed with by the court of law and not by any other means irrespective of the obvious sinister intentions of those behind such matters.
"We wish to draw the attention of Rivers people, Nigerians, the diplomatic and international communities to be wary of such a plot as the printing of fake APC t-shirts are presently ongoing and may be deployed in a matter of days. We also call on the international and diplomatic communities to disregard any such make-believe scheme that may be coming out of Rivers State soon.
 "The APC urges the Commissioner of Police, Rivers State; the Inspector General of Police and other security agencies to take particular notice of what is unravelling at the behest of Gov. Nyesom Wike and act accordingly."
Source: Naija News