Just In: National Assembly Workers Suspend 3-Day Warning Strike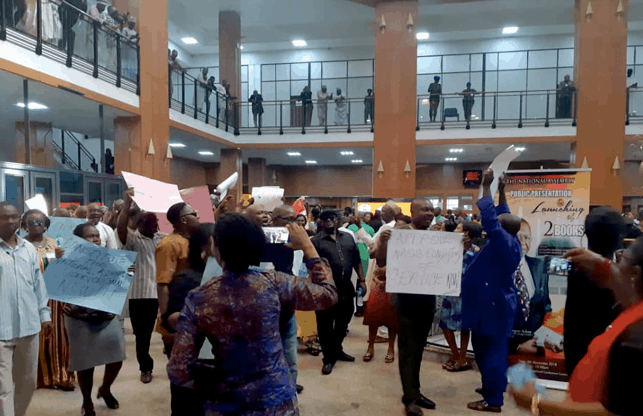 Normalcy Returns To National Assembly
National Assembly workers have today, suspended their three day warning strike embarked upon in protest of failure of management to pay their wages and allowances.
Naija News learnt that the workers took the decision at the end of a stormy emergency Congress held behind closed doors at the National Assembly complex.
What has Bukola Saraki, the CEO of the National Assembly, done with the salaries of Assembly workers? Remember, the NASS funding, which includes assembly workers salaries, is a first line charge.

— HENRY Okelue (@4eyedmonk) December 4, 2018
The workers say they have secured the listening ear of the NASS leadership which has commenced action on their demands. They also stated that the reviewed condition of service awaiting passage by the two chambers have been listed in this week's notice paper for consideration.
It will be recalled that the attempt by Senate President Bukola Saraki to address the protesting National Assembly workers earlier yesterday met with resistance, as the workers chanted "no pay no sitting."
Amid the chants however, the Senate President pleaded with the protesters to allow for a meeting between the leadership of the National Assembly and the management of the Parliamentary Staff Association of Nigeria (PASAN) to resolve the issues.
"As leadership of the Senate, we do not have to know the possibility of what is going to be paid now. What I am committing to you is to send message to the management that we must find money immediately to ensure implementation of CONLESS.
— Dele Ajala ?? (@Mr_Ajala) December 5, 2018
"Let me make a commitment on behalf of the entire leadership of the National Assembly that we are all on the same side. It is our interest to be sure of good and mental condition of service and better working environment and we are fully committed to this.
"We will work tirelessly to make sure the conditions you have listed are met. As the leadership of the National Assembly, the responsibility lies on us to address these," he said.
As previously reported by Naija News, staff members of the National Assembly earlier on Tuesday, shut down the National Assembly complex in protest of what they described as unpaid wages and lack of due promotion.
They insisted the lawmakers will not sit until they start getting credit alerts on their phones.