PDP Is A Scam – Arewa Youths Tell Nigerians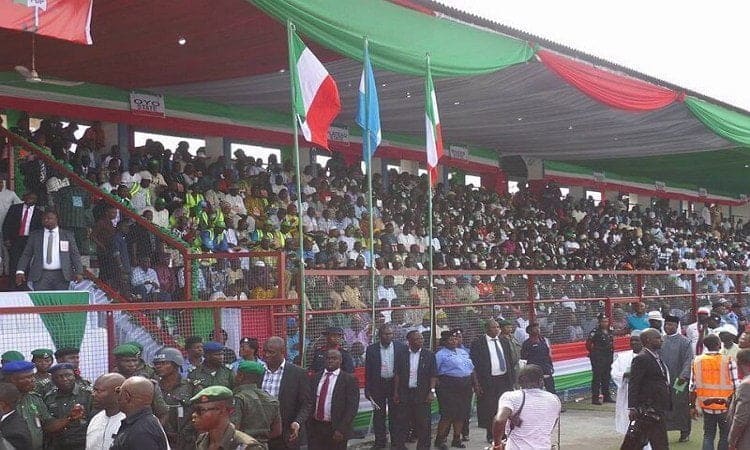 A group of youths under the auspices of Arewa Proactive Youth Coalition has admonished Nigerians to be cautious of the People's Democratic Party (PDP) it doubt the ability of the party to manage the resources of the country when elected.
In a statement in Abuja on Tuesday, Inuwa Bako, the president of the group dismissed the flag-off of the presidential campaign of the PDP as a scam, saying that the youths from the region now know better.
He described the visit of prominent PDP members led by the Presidential candidate of the party Atiku Abubakar to Sokoto as the latest form of "MMM" in town.
Boko said it was laughable that the PDP could described its outing in Sokoto as a huge success even when attendees did not fill up a 10,000 capacity stadium that hosted the rally.
He added that PDP had once again shown it fraudulent side by describing as a success it rally in the north-east.
Bako said: "The North West rally which had the entire PDP loyalists from all over Nigeria left a 10,000 capacity stadium still empty and the mouthpieces of the party were still bereft of shame to lie that the number of people that attended the rally portends victory for Atiku Abubakar. This is nothing but MMM whereby people were made to believe what did not exist, anyone that allow themselves to be taken in by such scam are in for disappointing surprises.
"The PDP may be playing the ostrich but the reality is that many people that should have attended the rally are aware that they will not hear anything new but that they will be plied with insult and abuses against the ruling party since the PDP and his candidate are incapable of issue based campaign.
"The people of the North West and other Nigerians are eager to attend rallies that are better organized, where they will be able to here fact based pitches from candidate and not gatherings where actors and charlatans would be hopping on soap boxes.
"We have done the simple mathematics, which people that cannot gauge the number of people that attended their rally in a 10,000 capacity venue are incapable of. If a single tenure of four years can bring the government closer to citizens more than 16 years of PDP has done then it follows that the wasted era of PDP must never be repeated, which includes not wasting time to attend the party's paid to attend rally.
"You can imagine that a party that was in power for 16 years with a candidate that was Vice President for eight years are unable to point to concrete projects or achievements to convince the electorates with. If after previously holding office for 16 years all PDP can do is to make more promises of what it will do if elected instead of showing what it has done to be re-elected then there is something capitally wrong with the party and its candidate.
"So why should we go and listen to their lies when we know that we can listen to the other candidate that can easily show us what he has done, what he is doing and what he will do, all under four years? This is what President Buhari and the APC has above them and they are yet to realize it. They continue to live their lies.
"We have resolved that we will not allow the rural population or those with limited political exposure to be scammed by the PDP as they continue their other rallies. Arewa Proactive Youth Coalition has therefore resolved to embark on an enlightenment drive to educate people on the issues they should raise when any party approaches them with non-issue based messaging."
Source: Naija News