Osinbajo Expresses Shock On 'Dead Buhari Replaced By Jubril'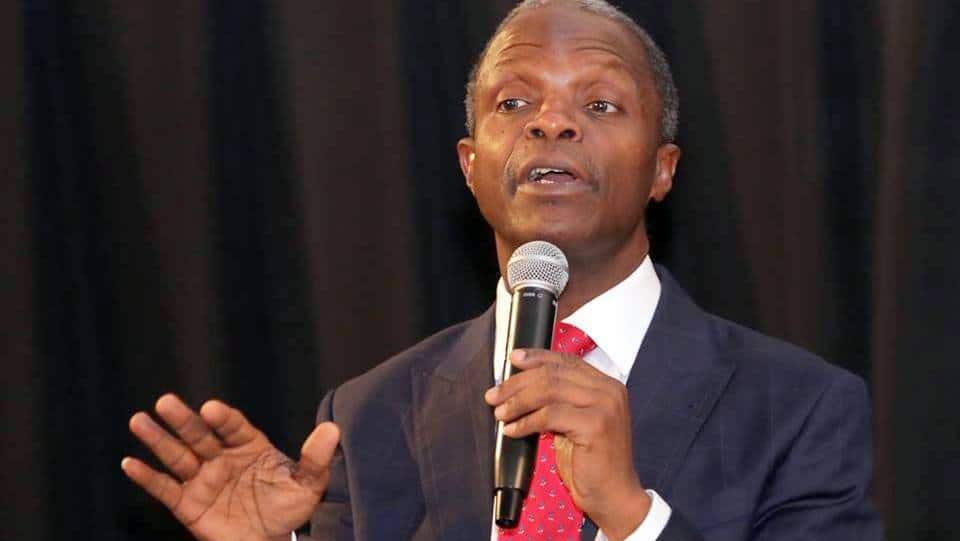 Taking a cue from his boss, Vice President Yemi Osinbajo, has spoken on the rumour that President Muhammadu Buhari,  died and has been replaced with one Jubril from Sudan.
According to NAN, the Vice President opened up at a National Consultative Forum organised by the National Committee of Buhari Support Groups (NCBSG) in collaboration with Council for New Nigeria Initiative.
Osinbajo, who expressed shock that one Jubril from Sudan was directing the affairs of the country, added that the fear of President Buhari have truncated the thinking faculty of some corrupt persons.
He revealed that the government had expanded N2.7 trillion on infrastructure, the highest in the history of the country, despite earning 60 percent less than the previous government.
He said that the Buhari-led administration had done much because it was not stealing money; was doing major roads in 36 states–Lagos Kano railway, Warri, Aladja, Mambilla, Port Hacourt, Maiduguri among others.
"We are giving about 300,000 of the poorest Nigerians N5000 a month. How? Because Buhari is the gate keeper he has stopped grand corruption.
"So despite the fact that we are earning 60 per cent less we are doing five times more. This is why there is a gang up by the discredited elite against him.
"They prayed for him to die, he didn't die. When he came back hale and hearty by the grace of the Almighty God, they mourned while Nigerians rejoiced.
"The fear of Buhari makes these people desperate even crazy. So now they say he is Jibrin from Sudan. If you can't discredit him say he doesn't exist; they were all alive and well when Pastor Adeboye went to London and prayed for him the day before he returned to Nigeria.
"How will one Jubril sit in Federal Executive Council and conduct meetings, consult with his ministers, speak to me daily?
"Their strategy is simple, if you tell a lie often enough some will believe you; Buhari is not only alive and well, he will by God's grace live long and well after his second term in office," he said.
He applauded the members of National Committee on Buhari Support Groups, saying that they were the vanguard of the battle for the soul of Nigeria.