Imo State: Okorocha's Son-In-Law Campaigns With Buhari's Picture On AA Poster
Nwosu Supporters Post Buhari And Their Boss Across Imo State
There is a strong indication that Uche Nwosu, son-in-law to Rochas Okorocha, governor of Imo state,  has not given up his chase for the state governorship.
Naija News learnt that his supporters mounted billboards showing his picture and that of President Muhammadu Buhari across Imo state on Monday.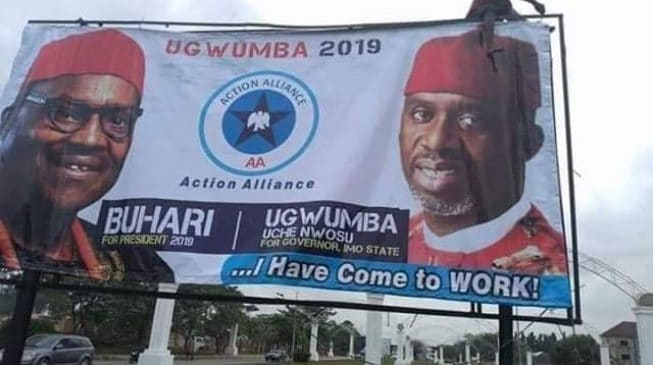 Nwosu had lost out in his bid to secure the governorship ticket of the All Progressives Congress (APC) despite efforts of the Governor, who is his father-in-law, Naija News reports.
The national working committee of the APC had approved Hope Uzodinma, a serving senator, as candidate of the party in the state.
Commenting on this while addressing his supporters in Owerri, the state capital, Okorocha said Nwosu was robbed of the ticket.
He said he would not stop him from joining another party to pursue his governorship ambition.
"What happened in Imo was a clear case of injustice, where Uche Nwosu won the primary and was robbed of the ticket. This injustice must be addressed. However, in spite of the fact that my aides are leaving the party, I am still a member of APC and will not leave the party," he had said.
"I tried to persuade them not to leave, but they have made up their minds. I have done what I can to make them remain in the party, they disobeyed me. I don't have any moral justification to stop them."
Okorocha had absolved Buhari of the alleged irregularity, blaming it on Adams Oshiomhole, national chairman of the APC.
The billboard mounted across the state shows Nwosu is now a member of Action Alliance.
Naija News reports that the same scenario is being witnessed in Ogun State governorship, as the Governor, Ibikunle Amosun and thrown his full weight behind preferred candidate, Adekunle Akinlade, despite his departure from APC to another party.