Buhari Would Go Nowhere If He Remains Ungrateful To My Ministry – Mbaka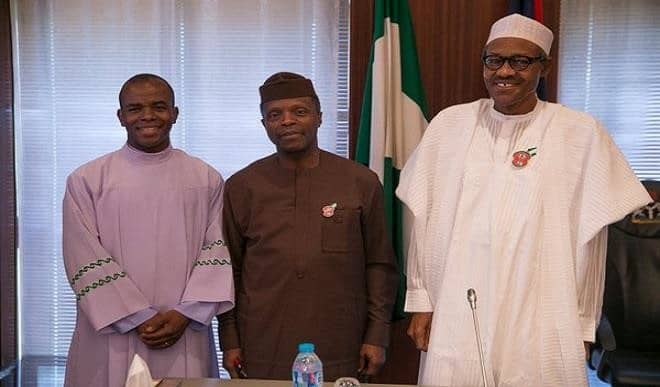 Ejike Mbaka, spiritual director of Adoration Ministry Enugu, Nigeria (AMEN), has said Buhari's refusal to be ungrateful to his ministry would lead him nowhere.
Through a video clip on social media, Mbaka said President Buhari forgot his ministry despite predictions by the ministry that he would win the 2015 elections.
He said he went the extra miles for Buhari ad his supporters are waiting to see if he would support Buhari again.
"Supporting Buhari is almost becoming a curse, we will not tell you that we will not support him, even if not for the sake of his good wife. She has been sending some little charity… for his (Buhari's ) sake, I was almost assassinated because we stood for him.
"APC was down till the prophecy came up that Buhari was going to be the president. After that, we were forgotten…
If you know what this ministry is going through because we are supporting Buhari, the attackers are waiting to hear me say that I will support him again attack; and Buhari will remain in Aso Rock, being somebody who cannot give money, what does that mean?
" I want to remind you that if Buhari will remain ungrateful to this ministry he is going no where…
"One thing that is holding him (Buhari) is spiritual, how many times has he almost died? And he should not take it for granted that he is healthy.
"Anything can happen and his health can collapse. Atiku is waiting for him somewhere and the only thing that can stop Atiku is spiritual. You people should go and come back, you people should not take us for granted, I am speaking with spiritual mandate.
"Even if you don't want to do something for us, look at the poor masses that almost die for you people, not even a job was given to anybody."
Mbaka had also tackled Atiku Abubakar, Peoples Democratic Party (PDP)'s presidential candidate and Peter Obi, his running mate, for "refusing to donate to his church".
See the video below: