President Buhari Finally Speaks On Being Cloned And Jibril Of Sudan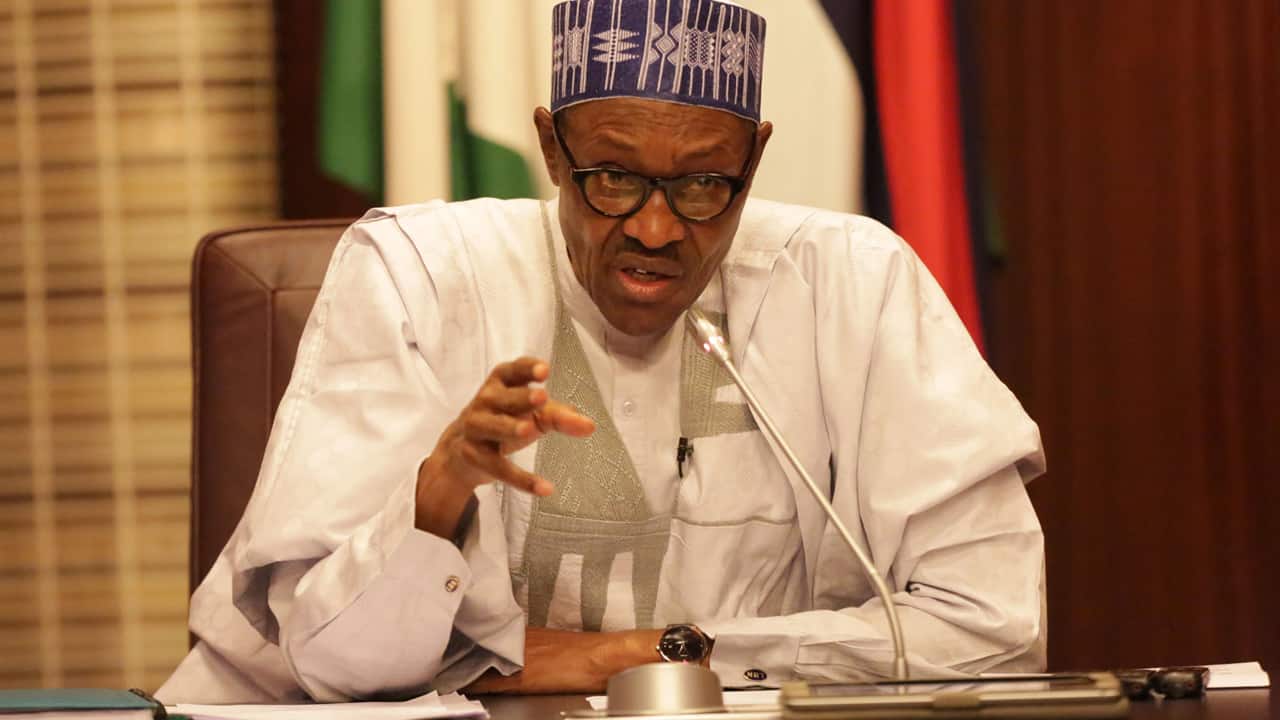 Buhari Breaks Silence On Cloning
After seemingly ignoring rumours on his  'death' and his 'look-alike', Jibrin of Sudan, President Muhammmadu Buhari yesterday said the sponsors of the rumour are "ignorant and irreligious",
Naija News recalls that there have been rumours that the real Buhari was dead and the person occupying the number one seat is another person or a clone, a Jibrin from Sudan or Niger.
The government has been warning Nigerians to shun fake news, stressing the security implication of such news items.
Reacting to the rumours of his clone for the first time, Buhari said many people had hoped he was dead during his ill health.
The President was responding to a question from a Nigerian who wanted to know if he was the real Buhari or the much talked about Jibril from Sudan, at a town hall meeting in Krakow, Poland.
In a statement by the Senior Special Assistant on Media and Publicity, Garba Shehu, the President said: "It's real me, I assure you. I will soon celebrate my 76th birthday and I will still go strong.''
He added: "A lot of people hoped that I died during my ill health. Some even reached out to the Vice President to consider them to be his deputy because they assumed I was dead. That embarrassed him a lot and, of course, he visited me when I was in London convalescing… It's real me; I assure you."
The President said he was looking forward to celebrating his 76th birthday on December 17 and jocularly added: ''If I am getting harassed by anyone, it is my grandchildren, who are getting too many.''
He told his audience that his administration will continue to maintain focus and deliver on the three focal points of his campaign in 2015: security, economy and the fight against corruption.
''Those in the Northeast will tell you that in spite of the recent setbacks, there is a difference between the time we came and before.
''We are not doing badly on security, economy and agriculture. We have virtually stopped the importation of food, especially rice and we are saving a lot of money.
''We now have food security and that has come with fiscal security because a lot of young educated people have not regretted going back to the farms and earning a respectable living.
"Those who thought I was dead begged Vice President Yemi Osinbajo to make VP".
''I am afraid, this is not receiving good publicity… but a lot of people in the rural areas are enjoying the benefits of our interventions in agriculture,'' he said.
President Buhari, who Naija News recalls is in Poland to attend the UN Climate Change Conference, COP24, reaffirmed that no territory of Nigeria is under the control of Boko Haram terrorists. He urged Nigerians to remain vigilant and supportive of the Federal Government's efforts to ensure the security of lives and property in the country.
While acknowledging that it has not been easy financing the security sector, the President said the Armed Forces were equal to the task.
He noted that it was regrettable that herdsmen and farmers' clashes had been politicised, promising that the government will keep prioritizing security because that is what many investors consider first before investing in the country.
The President also noted that all recovered stolen assets will be sold and the proceeds returned to the treasury for the benefit of Nigerians.
On women representation in his administration, the President told the meeting: ''I have plans for all Nigerians. I am not a male chauvinist. If I'm a chauvinist, will I give the Finance ministry to women?''