You Lack Political Intelligence, APC Senatorial Candidate Tells Sen. Magnus Abe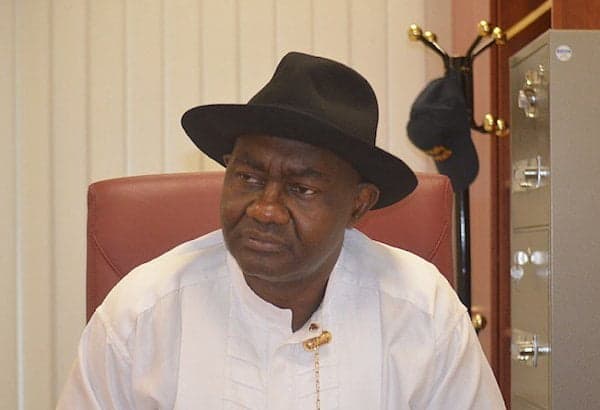 Oji Ngofa, candidate for the All Progressive Congress (APC) in the Senate for Rivers Southeast, believes that the dispute between Magnus Abe, former district senator, and Rotimi Amaechi, the Minister of Transportation, is futile.
Abe and Amaechi fought over the senator's ambition to become governor.
Commenting on the dispute between the two men, Ngofa, Nigeria's ambassador to the Netherlands, said Abe lacked political information.
He said that he had stopped supporting Abe for almost a decade and that he could not support anyone who could create disunity in the leadership of the party.
He added that Abbe had benefited greatly from the party, wondering why he could not let go of his ambition to unite his party.
"I think that essentially it's power play, nothing out of normal politicking, that is what is happening in our party in the state," Ngofa said in an interview.
"But I think that from my point of view that Senator Abe has demonstrated crass lack of political intelligence…
"This unnecessary political fight has been exacerbated by ego, malice and a feeling of entitlement as well as a tinge of messianic complex by my brother Sen. Magnus Abe. Given the love and friendship I witnessed between him and the leader (Amaechi), his behavior is completely unnecessary.
"And I did tell Sen. Abe that I did not think that we should divide the family because of his aspiration. Because the way I see it is that he has a right to aspire, nobody is challenging that but I have issues with the fact that you want to upturn and destroy a system because of your own aspiration. A system that you have been part of, that Sen. Abe is one of its biggest beneficiaries, a system that you have been promoting.
"And I disagreed with that and I told him(Abe) that if he intends to pursue his ambition outside of the framework of our political family and collective interest under Amaechi's leadership, I will not be part of it. I made it very clear to him. I have a concern with the fact that you have been part of a system that has promoted you, has given you the platform.
Download NAIJA NEWS app: