Buhari Swears In Commissioners In FCSC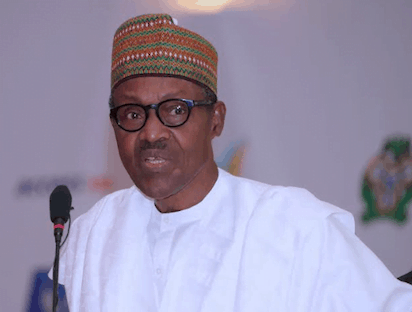 President Muhammadu Buhari, has, on Friday sworn-in the Chairman and 12 Commissioners of the Federal Civil Service Commission (FCSC) at the Presidential Villa, Abuja.
He admonished them to ensure that solutions are preferred to the problems of in the commission.
He implored them to ensure that they tackle the issues militating against the effective service delivery of the nation's civil service.
According to the president, reforms in the civil service was important for the effective dispensation of duties such as policy formulation by the civil service of the nation.
"In recent times government has observed some developments that are inimical to the image of the service and detrimental to efficient delivery of its responsibilities.
"The Federal Civil Service must therefore be repositioned to enable it fulfills role in honestly executing government policies.
"Considering your respective backgrounds your appointments were predicated on your wealth of public service experience.
"I, therefore, have no doubt that you are equipped to reposition the civil service to respond efficiently and professionally to its responsibilities.
"In this regard, you must ensure that government's recruitment drive is conducted in a transparent and fair manner to attract the appropriate capacity of skilled personnel to the civil service while maintaining and motivating new recruits,'' he said.
He stressed that the civil service is saddled with the onerous responsibility to formulate and implement policies and programmes of government through which benefits of governance are delivered to the citizenry.
He said the civil service had remained a central institution to any government and the engine room for helping the executive to deliver good governance.
"It must therefore put in place a sound system for appointments, promotions and discipline of personnel that will respond to the direction of government,'' he added.
The president also used the opportunity to remind the chairman and the commissioners of the tripod on which his administration is based, which include, fight against corruption, improving the economy, and looking into insecurity.
He congratulated the chairman and the commissioners for their appointments to perform roles most critical to the success of the government.
The chairman of the FCSC, Alhaji Yakubu Ingawa, who spoke to State House correspondents after the swearing in ceremony, pledged that the new members would discharge their responsibilities diligently.
Those sworn in along with the chairman included Mr Moses Ngbale from Adamawa; Waziri Ngurno from Borno; Aminu Sheidu from Kogi; Simon Etim from Akwa Ibom and Bello Mahmoud from Jigawa.
Others were Ahmed Sarna from Kebbi; Iyabode Odulate-Yusuf from Ogun; Shehu Danyaya from Niger; Fatai Adebayo from Oyo; Ejoh Chukwuemeka from Anambra; Joe Poroma from Rivers and Ibrahim Mohammed from Kaduna.
Source: Naija News