Metele Killings: Buratai Speaks On How Boko Haram Attacked Soldiers With Drones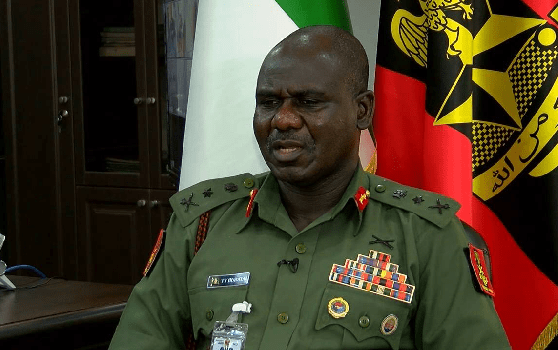 Buratai Says 23 Soldiers Were Killed In Metele Army Base In Borno State
After much silence since the Metele attack , Nigeria's Chief of Army Staff, Tukur Buratai has explained why terrorists have embarked on a back to back attack on the Army in the North East region.
Buratai yesterday admitted to the fact that the terrorists have stepped-up their fight against the Nigerian soldiers by increasing their use of drones and foreign fighters in their operations.
Mr Buratai described the exploits of the jihadists as "daring," saying it threatened to erode the previously recorded achievements in the counter-terrorism efforts.
Boko Haram has carried out successful, back-to-back attacks on Nigerian military bases since July, leaving heavy personnel and equipment losses in their wake.
While Buratai lamented the recent attack on Nigerian Army 157 Task Force Battalion in Metele, Borno State, on November 18, noting that 23 soldiers were killed in the Metele attack, Naija News learnt other sources have said at least 118 soldiers, including the battalion's commander, were killed in the attack.
The army chief said the attacks have put the military's resolve to test, but assured the insurgency would be uprooted before long.
His words, "Since 2015, the Nigerian Army, in conjunction with sister services and other security agencies have systematically degraded the capabilities and capacity of Boko Haram terrorists and many successes were achieved.
"However, in the last 2 – 3 months, we have noticed daring moves by the terrorists, increased use of drones against our defensive positions and infusion of foreign fighters in their ranks. These potent threats require us to continually review our operations," Mr Buratai said at the 2018 Chief of Army Staff Annual Conference in Maiduguri, the Borno State capital where Boko Haram has waged its devastating campaign since 2009.
Security experts have long warned that Boko Haram was recruiting foreign elements to help advance its jihadist cause in Nigeria. The Islamic State in West Africa (ISWA) has claimed responsibility for most of the attacks targeting Nigerian military assets.
Mr Buratai's comments, made available to newsmen by Brig. Gen Sani Usman, immediate-past spokesperson for the Nigerian Army, said Boko Haram also suffered heavy losses in the three-month period, which spoke to the gallantry and resilience Nigerian troops.
The full statement reads:
"In continuation with our resolve to keep Nigerians well informed of the activities of the Nigerian Army, I will be briefing you on the recent happenings in the North East of Nigeria."
"In the recent weeks, Nigerian troops deployed in the North East of Nigeria under Operation LAFIYA DOLE have come under series of attacks by large numbers of Boko Haram Terrorists."
"Specifically, the Nigerian Army troops deployed at KUKAWA, NGOSHE, KARETO and GAJIRAM came under attack at different times within a 2 week period from 2 – 17th November 2018. Each of these incidents were successfully repelled and several members of the terrorists were killed. However, a total of 16 personnel were killed in the course of these attacks while 12 soldiers were wounded in action and are receiving treatment at our military medical facilities."
"As you are all aware, Nigeria is contributing troops to the Multi-National Joint Task Force (MNJTF) which has its headquarters in N'djamena, in the Republic of Chad. One of the Nigerian battalions (157 TF Bn), deployed under the auspices of the MNJTF was attacked at their Base on the outskirts of a town called METELE on 18th November 2018."
"During the attack, the troops were forced to withdraw and several casualties were recorded. As at date 23 personnel were killed in action and 31 personnel were wounded in action and have been evacuated to several medical hospitals within Borno State. The Nigerian Army commiserates with the MNJTF at this difficult time and wishes to state that all necessary support will be rendered to the MNJTF to reverse this resurgence of the Boko Haram Terrorists."
"The Nigerian Army wishes to further commiserate with the families of the gallant officers and soldiers that paid the supreme price in the course of defending their fatherland. The sacrifices of these fallen heroes will not be in vain. We also wish all those wounded in action speedy recovery and assure them of our continued support and care."
"The incident of 18th November 2018, happened at a time when the Nigerian Army was planning to hold the Chief of Army Staff Annual Conference for 2018 in Benin City, Edo State. On account of this incident, the Conference had to be moved from Benin City to Maiduguri to enable the Nigerian Army leadership get closer to the troops on the ground and to better appraise our activities, assess our performance and identify our shortcomings as an Army."
"We are also sensitive to the fact that the nation is approaching an election year and thus we must be prepared to assist in providing security for the peaceful conduct of elections. Accordingly, the theme for this year's annual conference is aptly titled, "Optimizing the Operational Efficiency of the Nigerian Army Towards Safeguarding Democracy and National Security in Nigeria". Let me at this juncture assure all Nigerians and indeed the international community that the NA will work optimally, in conjunction with other security agencies to provide a secure environment for peace and unity in Nigeria."
"Since 2015, the Nigerian Army in conjunction with sister services and other security agencies have systematically degraded the capabilities and capacity of Boko Haram terrorists and many successes were achieved. However, in the last 2 – 3 months, we have noticed daring moves by the terrorists, increased use of drones against our defensive positions and infusion of foreign fighters in their ranks. These potent threats require us to continually review our operations."
"At this point permit me to implore all of us to spare a thought for the brave men and women of the Nigerian Army who paid the supreme price for the security of Nigeria. The Nigerian Army will continue to support the families of these brave officers and soldiers and pray that their souls rest in perfect peace. Let us also not forget the men, women and children who have been killed or affected by the atrocities of the terrorists. It is for their sake that this war against terror must be won."
"The Nigerian Army wishes to express its gratitude to the President, Commander-in-Chief of the Armed Forces, Federal Republic of Nigeria, President Muhammadu Buhari (GCFR) who has visited the troops including some of the wounded officers and soldiers in the hospitals. We also thank His Excellency the Executive Governor and good people of Borno State who have taken the brunt of the nefarious activities of the Boko Haram terrorists. Our gratitude also goes to the Honourable Minister of Defence, the Chief of Defence Staff and the Service Chiefs, who have all shown concern and visited the troops. The Nigerian Army also thanks all patriotic and concerned Nigerians who have sent in messages of goodwill and support for the Nigerian Army."
"Finally, the Nigerian Army, wishes to reiterate and pledge its total commitment to the defence of the Constitution of the Federal Republic of Nigeria. We wish to reassure all Nigerians of the commitment of the Nigerian Army to defend our country at all costs. We shall also continue to remain apolitical, professional and responsive in the discharge of our constitutional roles."
Download NAIJA NEWS app: