How FG Is Planning With Security Agencies Against Rivers, Akwa-Ibom States – Wike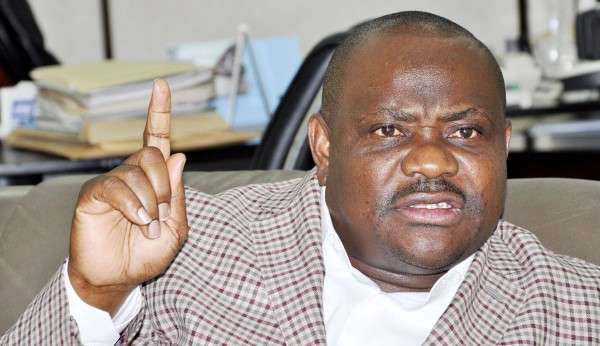 Wike Raises Another Alarm, Says FG Planning To Rig Elections In Rivers, Akwa-Ibom States
Rivers State Governor, Nyesom Wike, has again raised alarm that the All Progressives Congress (APC)-led Federal Government is working in agreement with security agencies to disrupt the 2019 governorship elections in Rivers and Akwa Ibom states.
Recall that earlier in the week, Governor Wike had alleged that the same federal government is planning to destabilize the state by planting 800 guns in the state.
During a courtesy visit by the Netherlands Ambassador to Nigeria, Mr. Robert Petri, Wike said "When I raised an alarm that the federal government is plotting to plant 800 guns in Rivers State to destabilise the state, it is the truth. It is real. The federal government, working with the security agencies, is planning to disrupt the 2019 governorship elections in Rivers and Akwa Ibom states. They want to ensure that elections do not hold in these states, so that they can mobilise security agencies to manipulate the results,"
Wike also said if the Independent National Electoral Commission (INEC) and Police can allow 55 percent free and fair elections, Nigerians would be happy.
"As members of the European Union (EU), we want you to use your position to prevail on INEC and security agencies to allow the will of the people. Manipulating the electoral process is corruption. This administration claims that it is fighting corruption, but, that is not true. When a PDP member defects, the issue of corruption against him ends," he said.
On the clean up of Ogoni, Wike regretted that the federal government has politicized the exercise, which, he said, is only thrown up during elections.
In his remarks, Petri assured that the EU will closely monitor the elections, to ensure they are credible.
"We are getting closer to the general election, which are very important… The EU, which we are part of, will be sending monitors for the presidential and governorship elections. It is important that the elections are conducted in a friendly environment", the governor said.
But, the APC has described Wike's allegation as infantile.
Reacting to the allegation, the National Publicity Secretary, Mallam Lanre Issa-Onilu, said the ruling party is busy concentrating on deepening good governance instead of reacting to infantile statement from the opposition.
We cannot be responding to infantile statements from the opposition. We have more important and serious things to concentrate on.
The APC cannot bring itself too low to responding to governor Wike because, what has he not said before? He is capable of saying anything without thinking. He is known for his infantile utterances.
"I am not surprised with this flippant statement from him.
"Let me put it on record that there is no iota of truth in the baseless allegations," he said.