Reps Invites Fashola Over Reconstruction Of Bridges Destroyed By Boko Haram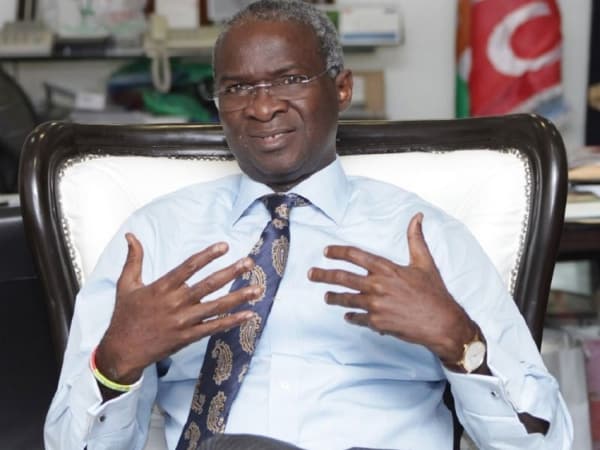 Mr Babatunde Fashola, The Minister of Power, Works and Housing has been invited by the House of Representatives over the failure by a contractor to reconstruct the Mararaba-Mubi-Michika-Madagali-Gwoza Road, including the three bridges at Kudzum, Delchimi, and Wurogyande destroyed by Boko Haram.
The motion for the invitation of the minister, which was spearheaded by Mr Adamu Kamale representing Michika/Madagali Federal Constituency in Borno State was initiated after the motion was adopted by the house.
Kamale admonished the House to direct the Committee on Works to "invite the Honourable Minister of Power, Works and Housing, to give details of the contract status and why the three broken bridges have not been repaired."
Adhering to the admonition by the lawmaker, the house also unanimously asked the committee to "investigate the circumstances of the contract award, the capacity of the contractor, mobilisation released and any relevant information that will justify revocation and re-awarding of such a contract for proper execution."
They also directed the Federal Ministry of Works, the Federal Roads Maintenance Agency or any relevant institution of government to facilitate the immediate repair of the broken temporary bridges to re-connect the Michika/Madagali FederaI Constituency to the rest of the country.
Moving the motion, Kamale said, "Sometimes in June 2015, this honourable House passed a resolution directing the Federal Ministry of Works to construct the above (named) three bridges destroyed by Boko Haram insurgents and also directed NEMA to construct temporary bridges to facilitate free movement of people and return of Internally Displaced Persons to their homes within the constituency.
"The House notes that while NEMA did not comply with the said resolution, however, the Federal Government gladly awarded the contract to rehabilitate the Mararaba-Mubi-Michika-Madagali-Gwoza Road, including reconstruction of the three broken bridges at Kudzum, Delchimi and Wurogyande to Rhas Nigeria Limited at the cost over N14bn in 2016.
"The House further notes that the contractor was paid mobilisation (fee) two years ago. The House is worried that the contractor has not deployed equipment in the site and has equally not achieved any progress so far, which suggests both lack of capacity to handle the project and gross contractual insincerity, given the duration of contract award and mobilisation received."
The Lawmaker disclosed that the entire Michika/Madagali constituency have been cut off from the other parts of the country, following the collapse of the temporary wooden bridge at Kudzum used by the motorists.
Source: Naija News