DSS Rescues Kidnapped American Victim From Nigerian Captor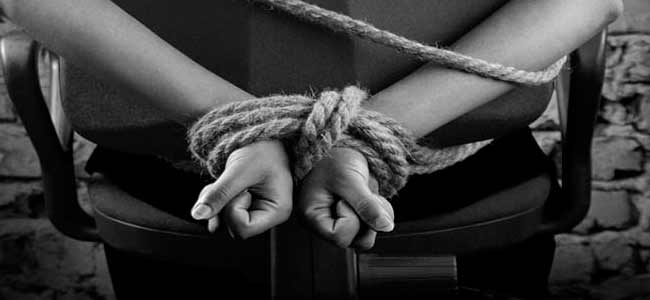 The Department of State Security (DSS) has secured the freedom of an American citizen, Tawanda Lynn Jackson, allegedly held hostage by one Mathew Adedoyin.
Mrs Betty Adoki, the Director of the DSS in Lagos State, who confirmed the rescue operation to newsmen at her Shagisha office, said that the captive was lured by his captor vie social media.
According to Adoki, Jackson, 46, had arrived in Lagos on Nov. 11 and was received at the airport by Adedoyin, stressing that he decided to hold the victim hostage on Nov. 21, where she was allegedly raped several times.
Adoki said that investigation into the alleged kidnap commenced with the American Embassy informed the service about the alleged kidnap of Mrs Jackson.
Adoki said the suspect had lured the black American mother of five through social media, purportedly for a visit, claiming to be a wealthy prince from Arogbatesu royal family of Ile-Ife, Osun State, with the intention of extorting money from her.
"On Nov. 26, 2018 about 2 a.m., Jackson was rescued from the captivity of these criminal elements who are suspected to be internet fraudsters and kidnappers.
"Jackson was held hostage at No. 7, Akanbi Street, Abule Egba, Lagos by one Mathew Adedoyin and his accomplice.
"Adedoyin told the victim that his father was a former king of Ife Titun, Osun State, and that he was heir apparent to the throne. He further cajoled the victim that he owned several buildings in Lagos, including where Jackson was held hostage.
"But the victim started to suspect a foul play when he was losing patience and said he rented the place meanwhile, it was a ramshackle place he said his father owned,"
"The suspect, in furtherance to his deceit, reserved Protea Hotel, Ikeja, as accommodation for the victim while in Nigeria, but deliberately moved her to another hotel, to prevent the monitoring of Jackson by the U.S. Embassy.
"He eventually seized her International Passport, credit card and United States Identity card of the victim, to prevent her possible escape," she further explained.
Speaking to the News Agency of Nigeria (NAN), Adedoyin, who claimed to be real estate agent, denied abducting the victim or raping her, saying that she asked him for sex.
He claimed that her flight to Nigeria was on her own volition with the intention of getting married to him.
The suspect admitted that on her arrival to Lagos, he lodged her at Turn Up Hotel, but had to move her to his friend's house for her to stay pending when he could raise money for her return ticket to the United States.
He also denied seizing the victim's passport, saying that he only helped her keep it safe after he realised that she was carefree with her bag containing the documents anytime they went out.
His suspected accomplice, Idowu Ayeni, said he was uncomfortable when the suspect brought the victim to his house but had no concrete plans on when they intended to leave.
Download Naija News App. Advertise with us. Send us enquiries and press releases.