Aregbesola Hands Over To Oyetola As Osun State Governor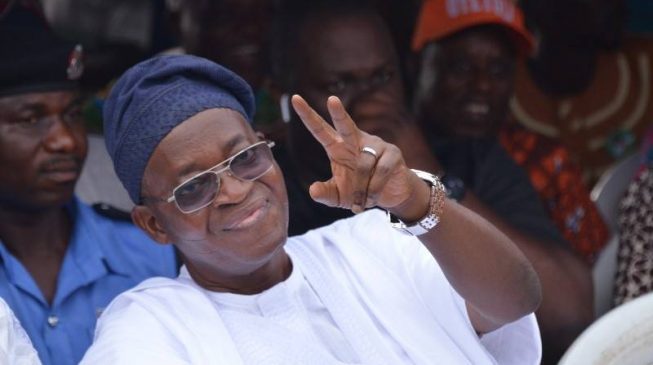 Aregbesola's Supporters Ready For His Home Coming After Eight Years As Osun Governor
After serving two terms of eight years, Osun State Governor Rauf Aregbesola will today be handing over power to his successor, Gboyega Oyetola.
The inauguration of the new administration is slated to be held at Osogbo Township Stadium, after which the former governor will move to Ilesa via Osunjela, about 10 kilometres from Osogbo, the state capital.
Aregbesola, who had vacated the Government House, the governor's official residence, on November 19 to give Oyetola enough time for renovation, has said he would return to his father's house at J69A Arogbo Street, Ifofin, Ilesa.
To lead over 5,000 of his supporters, the Oranmiyan Group has mandated its members in the 30 local government and 32 local council development areas (LCDAs) of the state to converge on Osunjela town to receive Aregbesola and his wife, Sherifat, before they proceed to Ilesa.
The paramount ruler of Ijesa land, the Owa Obokun, Oba Gabriel Adekunle Aromolaran, his chiefs and other traditional rulers in Ijesa communities, are expected to receive the former governor and his family.
Aregbesola and his family will be given a civic reception at Zenabab Hotel, Ilesa.
Addressing reporters, Oranmiyan Group's spokesman Olajide Sadiq said: "We decided to give Aregbesola a warm welcome in recognition of his laudable achievements in many sectors of the economy.
"Our members are happy that Aregbesola completed his tenure with many achievements. Aregbesola is our mentor, principal, grand patron and the Oranmiyan symbol.
"We are happy because there are some people who died on the seat; they didn't go back alive to their people. And we want to thank God again because Aregbesola is somebody who is very passionate about the development of the state.
"We want to celebrate a nationalist, philanthropist and the lover of development. He has done tremendously well in Osun in the last eight years and he has not disappointed us. We are proud of him.
"Aregbesola is an embodiment of ideas: his developmental projects cut across all nooks and crannies of the state. He did not centre his developmental projects to Ilesa, his home town. As matter of fact, the state has undergone positive changes under Aregbesola's leadership.
"We want to use the occasion to showcase the affection of Oranmiyan people for Ogbeni Rauf Aregbesola and thank God for making him successfully complete his tenure in office."