Police Parade 33 Suspected IPOB Member For Alleged Murder Of Police Inspector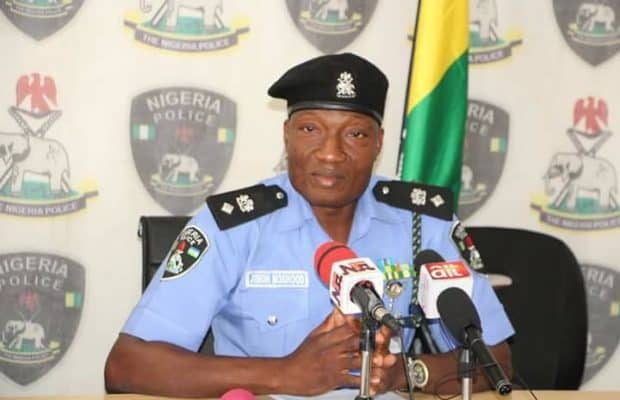 Mr Ibrahim Idris, the Inspector General of Police, has ordered, with immediate effect the recovery of the two AK47 riffles and a Berretta piston allegedly snatched from a slain police officer and others by members of the Indigenous People of Biafra, IPOB, in Nnewi during a protest last week.
ACP Jimoh Moshood, the spokesperson of the Nigeria Police Force, made this known in Awka on Sunday evening while parading 33 suspected members of IPOB arrested by the Anambra command.
He stated that the Police boss has mandated that those responsible for the death of the police inspector and others be arrested and brought to book, and the weapon recovered from them be recovered.
The FPRO said, "On 23rd November, 2018, there was intelligence report that members of the proscribed Indigenous People of Biafra (IPOB) an unlawful Terrorist organization were sighted gathering in their hundreds with dangerous weapons near Teaching Hospital, Owerri Road, Nnewi about to cause disturbance of Public Peace and public safety in the Nnewi and Environs.
"Consequently, Police Patrol teams led by the Area Commander, Nnewi, ACP Nnanna Oji Ama mobilized to the scene to prevent them from causing breakdown of law and order and mayhem, and destruction of lives and property.
"The Police Team, while proceeding to the scene came under ambush from the IPOB members, in the process, a Police Inspector was killed, two (2) other Police Officers were seriously injured and one Police Patrol vehicle was set ablaze, and the proscribed IPOB members snatched and carted away two (2) AK47 Rifles and one Beretta Pistol with ammunition."
The arrested suspects, aged between 17 and 65 years and hailing from states in the Southeast and Delta State, were accused of engaging in terrorism, despite the proscription of the group last year.
The suspect will not have the accusation of killing a police inspector and snatching of arms they were been accused of by the Police spokesman as they protest loudly.
The suspects said they were mostly traders in Nnewi market who had finished their business for the day and were about to close shop before they were arrested long after the protesting members of IPOB had left.
Most of the suspects cried all through the parade, insisting that they were innocent and should not be allowed to suffer for a crime they did not commit.
Moshood however assured that a thorough investigation would be launched into the matter, and those found guilty would be charged for terrorism.