Police Commissioner, Gov. Obiano Dragged To Court Over Crisis At Anambra State House Of Assembly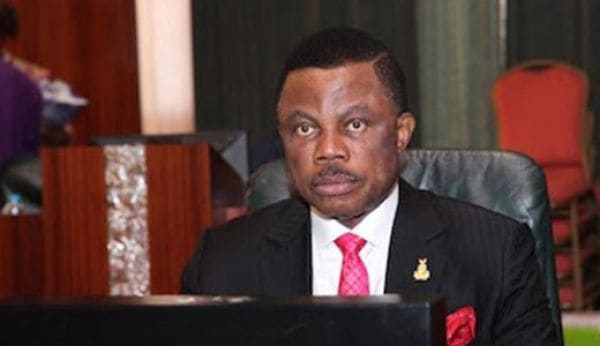 A faction of the Anambra State House of Assembly has dragged the state Commissioner of Police, Garba Umar, Gov. Willie Obiano-led executive arm of government and others to court over the sealing of the Assembly complex.
Policemen have taken over strategic areas leading to the Anambra State House of Assembly, as the lawmakers are expected to resume sitting.

On Tuesday, Rita Maduagwu, Speaker of the Anambra State House of Assembly, was impeached. See Also Breaking News BREAKING: Anambra Sp… pic.twitter.com/qC7AYy8qYD

— Crevo360 (@Crevo360_Ng) November 15, 2018
Naija News  understands that the faction led by the new Speaker of the Assembly, Ikem Uzoezie disclosed this yesterday in Awka, the Anambra state capital said he was aware of plans by those sued to aid the Hon Rita Maduagwu faction to remain in power, despite having been impeached.
He said nothing would revert the impeachment of Maduagwu that was carried out on 13th of November by about 25 out of the 30 members of the House.
He described the sealing of the Assembly by the police on the alleged instruction of the state government as "executive recklessness and madness".
Uzoezie vowed that the lawmakers in the state must be liberated from the status of stooges to the executive arm, adding that the lawsuit against the police commissioner and Obiano would commence on Monday.
He said, "The police are well aware that what they are doing is illegal. We've drawn the attention of the Inspector-General of Police, Ibrahim Idris, the Anambra CP to the Legislative Activities Act 2017 that was assented to by the President, Muhammadu Buhari, telling them that their action is unconstitutional.
"That their action is an attack on the institution of democracy and that there is a jail term to it if they so persist to seal the complex.
"By Monday, our processes will be in court. We have briefed our lawyers on what to do. On Monday, both the police and the executive will meet us in court.
"We only require basic police presence to safeguard government property and not sealing off of our premises and restrict our members of staff from having access to their offices and workplaces which we find so disheartening at this point in time".
He said his group had also written to the National Assembly drawing its attention to the police action in Anambra, believing that NASS would intervene and stop what he called " invasion of the state assembly under any form or guise."
While calling on the people of the state to call the police, the governor and his aides to order in the meddlesomeness in the Assembly, Uzoezie vowed that nothing would make the impeached Speaker return to office.
He said, "This is third and last time. Two times the governor has intervened. No she has been impeached. There is no going back; no further remedy or intervention. Like the Bible says, what's written is written. The only thing left to her now is to manage her remaining days in the Assembly as a member."
Source: Naija News