We Won't Return Power To Wasted Years Of PDP's Misrule, APC Promises Nigerians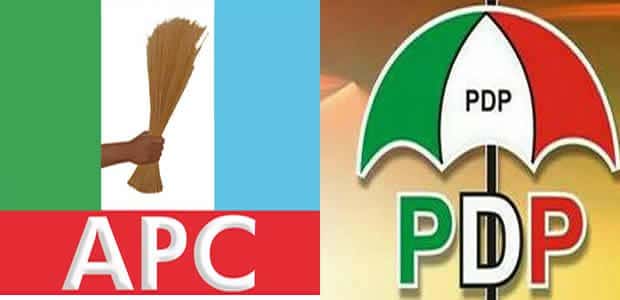 The All Progressives Congress (APC) says the outcome of last  Saturday's bye-election in Kwara State is an indication that Nigerians will not return to the "wasted years" of the Peoples Democratic Party (PDP's) misrule.
PDP/APC are platforms for men of resource to actualise their ambition. We cannot continue to put certain things at risk all in the name of politics. Soldiers are being killed, our security is threatened, It has been for years. It doesnt Matter at this point who occupies the seat

— Lanre (@9jaOriginal) November 24, 2018
Naija News Learnt  The party said this in a statement issued on Thursday, by its National Publicity Secretary, Mallam Lanre Issa-Onilu.
The comments come days after the Independent National Electoral Commission (INEC) declared Olawuyi-Ajuloopin the winner of the bye-election conducted in Oke Ero/Irepodun/Isin and Ekiti federal constituency for the House of Representatives.
Isa-Onilu said: "The Nigerian electorate have tasted the benefits of good governance in the last three and half years of President Muhammadu Buhari-led APC government and won't go back to the PDP's 16 years of waste and misrule.
"Elections have been won and lost. A new and progressive Kwara State beckons. Through their votes, the Kwara electorate have spoken clearly on the new political direction in the State. Kwara State has suffered enough of the selfish machinations of a self-appointed leader. The will and wishes of the good people of the state must prevail now, in the 2019 elections and beyond."
The ruling party also condemned what it described as the Senate's investigation of the bye-election, stating that it is "an abuse of the legislative arm of government to pursue selfish political ends."
"The questionable decision by the Senate to "investigate" the circumstances leading to the Peoples Democratic Party (PDP) loss in the last Saturday's House of Representatives' by-election in Kwara State must be seen for what it is – an abuse of the powers of the legislative arm of government to pursue selfish political ends.
Nothing will make me to support PDP. If they like, let them field an Angel as their Presidential Candidate.
We are learning the hard way because of PDP's wasted years of misrule

— Truth Seeker (@jamesokparikpu) August 14, 2018
"While the All Progressives Congress (APC) condemns this curious Senate investigation of the by-election which took place in the home state of the Senate President, Dr. Bukola Saraki, we also find it curious that other bye-election conducted in Katsina and Bauchi States have not received similar attention from the Senate," the party stated.
Source: Naija News