Senate Orders Investigation Into The Invasion Of Akwa-Ibom State House Of Assembly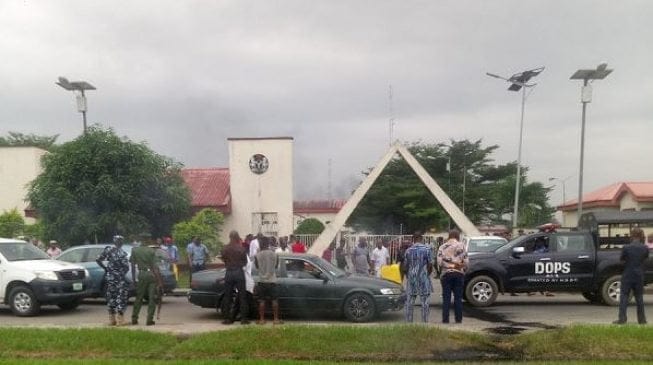 Senate Gives Committee 48-Hours To Investigate Akwa-Ibom State House Of Assembly Invasion
The Senate has ordered a thorough investigation into the alleged invasion of the Akwa Ibom State House of Assembly.
This is coming after the police and other security operatives in Akwa Ibom State sealed off the premises of the state's House of Assembly as its members tried to resume for plenary, yesterday.
Senate committee on Police headed by Senator Tijani Kaura (Zamfara North) has, therefore, been given a 48-hour ultimatum to urgently look into the reported police seal up of the assembly and report back to the Senate.
This is sequel to a motion moved by Senator Albert Akpan (PDP-Akwa Ibom North-East) on the development through order 43 of the Senate standing rules, alleging that the police action was meant to pave the way for the removal of Governor Udom Emmanuel from office.
Akpan informed his colleagues that over 1,500 policemen invaded the premises of the House of Assembly in the early hours of Wednesday and sealed it, thereby preventing the lawmakers from carrying out their legislative duties.
While he noted that the reason for the police's action is still unclear, he warned that security agencies should not involve themselves in partisan politics.
He, therefore, urged the upper legislative chamber to direct the Inspector General of Police, Mr. Ibrahim Idris, to order his men out of the assembly complex so that the state lawmakers could have access to their offices and the chamber and discharge their legislative functions.
Contributing, Senator Shehu Sani (Kaduna Central) described the sealing of the assembly as "a breach of principle of democracy, clearly ambiguous and an aberration, which should not be supported by any senator because of politics".
He urged the Senate to take a strong position on the police action so as to send a serious signal to the security agencies against interference in legislative functions.
Senate President, Dr. Bukola Saraki, therefore, directed the Committee on Police Affairs to investigate the alleged sealing of the assembly complex by the police in order to ascertain the reason for their action.
He said, "What is wrong is wrong. It's wrong for a parliament to be sealed by security agents. We should not be partisan about it, but it's necessary we allow the Committee on Police Affairs to investigate it because it's still an allegation by a member, which should be investigated."
He, therefore, mandated the Police Committee to thoroughly investigate the allegation and report back to plenary within 48 hours "after which the Senate can now take action."
Akpan told journalists after plenary that five out of 26 lawmakers in Akwa Ibom state, who claimed to have sacked the assembly leadership, are trying to remove the governor by causing trouble through the police invasion in the state.
The lawmaker said he had informed the Senate on the alleged orchestrated plan by the APC to disrupt peace of the state ahead of next year's general elections.
Source: Naija News