Police Deny Factional Anambra Lawmakers Entrance Into The Assembly Complex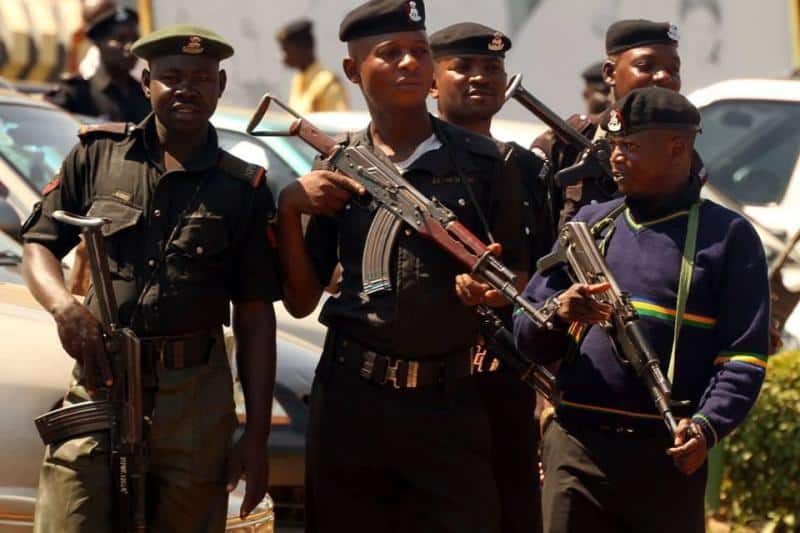 Some members of the Anambra state House of Assembly have have been locked out from the premises of the Assembly by the men of the Nigerian Police Force.
The lawmakers, made up of those who purportedly impeached the Speaker of the House, Rita Maduagwu, on the 13th of November, were stopped at the gate of the complex and asked to leave from there.
The entrance to the legislative complex as of 8am on Thursday was barricaded by about 200 policemen.
The policemen failed to sway their stand and allow entrance to the lawmakers despite the pleading of the fractional speaker Ikem Uzoezie and his group.
Uzoezie, who spoke in strong term against the sealing of house of Assembly by the police, describe the act of the police has against the constitution on the country.
On the 13th of November, about 20 out of the 30 members of the state house impeached Maduagwu for alleged financial impropriety, highhandedness, incompetence and gross misconduct.
Maduagwu, who later gained access to the chamber, presided over a session with 11 members of the House and described her impeachment as "a bundle of illegality."
The state government, which obvious support the impeached speakers, Maduagwu asked the parallel members of the House to sheathe their swords.
The factional Speaker , Uzoezie; the Deputy Speaker, Hayford Oseke and Victor Okoye, who were identified as leaders of those who spearheaded the impeachemnet have been suspended by the All Progressives Grand Alliance, Anambra State chapter.
When contacted on the telephone, the Police Public Relations Officer in the state, Haruna Mohammed, confirmed that the lawmakers were denied entrance into the legislative complex.
He said the Police action was sequel to an application from the leadership of the House to protect the complex.
He said, "We had earlier issued a press statement notifying the public of sealing off of the Assembly. We stand on that press statement."
Asked how long the sealing of the complex would last, Mohammed said it depended on counter-instruction the Command would be given.
"What we did is called proactive measures to protect the place and prevent breach of law and order.
"The world over, proactive measures for crime prevention is preferred to reactionary measures," Mohammed stated.
Source: Naija News