Osun Pensioners Protest Over Non-Payment Of Entitlement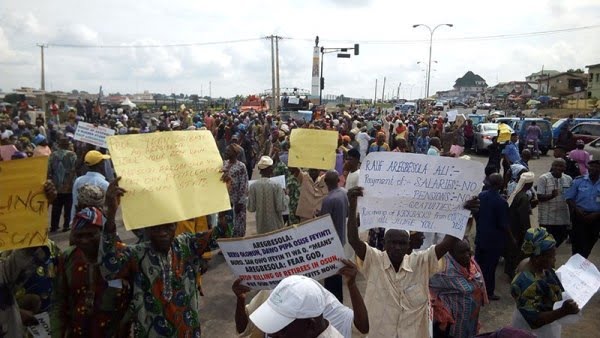 Pensioners in Osun State yesterday afternoon staged a protest over the non-payment of their entitlements.
Naija News learnt that  the pensioners while  protesting in Osogbo, the state capital, called on the Economic and Financial Crimes Commission (EFCC) to beam its searchlight on the financial activities of the outgoing Governor Rauf Aregbesola.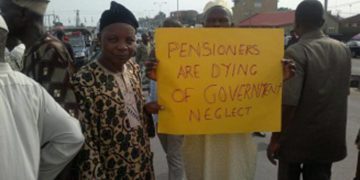 The Leader of the forum of 2011/2012 retired Public Servants of Osun State, Yemi Lawal, claimed that the state government is not spending funds appropriately.
"Aregbesola is still owing us 15 months of pension arrears and December 2008 to 2012 gratuity. He has not paid our entitlements.
"Then the contributory pensioners who had contributed while in service ought to collect the bulk of their money six months after retirement. About four years back, Aregbesola did not remit the money contributed while in service and that is why the pension administration did not pay them," he said.
According to him, the intervention funds disbursed by the Federal Government to help state governments ease the payment of salaries and pensions owed was not well utilised in Osun.
Osun state workers/pensioners haven't been paid a whole monies/entitlements due them in the past 4 years.

— Damidino ✨ (@damiolug) November 21, 2018
Lawal also lamented that the governor is owing retirees, as well as workers 17 months pensions and salaries.
The pensioners then urged the Federal Government to prevail on Governor Aregbesola to look into the plight of the pensioners and pay up their entitlements. The state commissioner for Information and strategy, Adelani Baderinwa, when contacted, however, declined to speak on the allegations raised by the pensioners.
So where did Osun money go? To shrines or ghosts? Why did he not pay salaries and pensions to the suffering workers and pensioners, just like in Imo- same APC state???
Strange things happen in strange administrations!!!!
A lie can only be sustained in vain with a thousand lies!!!

— Don Bez (@DonBez2) November 18, 2018