NEMA Probe: Presidency Slams Opposition Over Plot To Tarnish Osinbajo's Image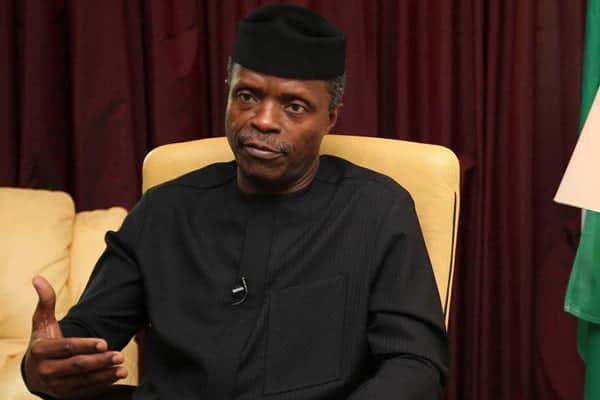 The Presidency has raised alarm over the alleged mismanagement of fund accusation raised against Vice President Yemi Osinbajo.
It labelled it as a technique aimed at tarnishing his image and paralyzing the President Muhammadu-led administration.
RE: ALLEGED VIOLATION OF PUBLIC TRUST AGAINST NEMA AND OSINBAJO BY HOUSE OF REPS!

"…it has proper documentation and receipts of all its transactions."#LNCnews via TheCable

Read a comprehensive report on 'What Truly Happened' @The_Seeker76 @CACCOT1 https://t.co/Sf5kzDqCT3 pic.twitter.com/s7qPTZJZbU

— Leading Nigeria's Conversation (@LNCtoday) November 22, 2018
Presidential Political Adviser, Babafemi Ojodu, in a statement on Thursday, said there is nowhere in the House of Representative Committee on Emergency and Disaster Preparedness report where there is an allegation of corruption against the Vice President.
He said claims against him from some quarters regarding the report are mere political contrivances intended to distract him.
"It is evident that the opposition are in search of a company for their acts of grand corruption which brought Nigeria to its knees as of May 2015. They cannot find that company in the Vice President.
"First, there is nowhere in the politicised House of Reps report where the VP was accused of corruption or embezzlement of funds. I challenge them to quote any word or sentence that makes such an accusation.
"It is now evident through the NEMA report, that the opposition is indeed making frantic efforts to tarnish the image of the Vice President," Ojodu said.
He explained further that even after Honourable Ali Isa, the Chairman of the House of Representatives Committee had admitted that the Vice President was not mentioned in the report, the opposition still found it expedient to continue, to attack the reputation of Professor Osinbajo.
"Even the House Committee Chairman has said there was no allegation of corruption against him. The only allegation is that he approved funds for the emergency operations in the North East from the Consolidated Revenue Fund not budgeted funds. This conclusion we have proved to be false. The funds approved were from budgeted funds, specifically the Rice Levy.
"Let us remember that the approval granted by Prof. Osinbajo was in response to the threat of hunger and starvation based on information received from the United Nation World Food Programme in April, 2017.
"The organization had issued a warning that it would be reducing its vital support to about 1.8 million IDPs by as much as 85%, due to the corresponding reduction in funding by the donor countries. Around the same time, the United Nations Commission for Refugees in Geneva also warned of the growing risk of mass deaths from starvation among people living in the conflict areas.
"Besides, it is also important to note that the procurement process was not ignored in the release of funds, as alleged. Section 43 of the Public Procurement Act makes provision for emergency procurement, in which case the procuring entity is allowed to engage in direct contracting for goods and file a report thereafter with the Bureau of Public Procurement," he explained.
When you hear Osinbajo talk about how PDP looted the country, you would think this man is allergic to corruption but your MCM has been indicted for corrupt practices. He chose corruption over Integrity.?#OsinbajoNEMAgate#OsinbajoGate pic.twitter.com/VcMKtZjMhq

— Simeon (@simmeonii) November 14, 2018
Senator Ojudu, however, promised that the administration will not be distracted and will continue to cater for Nigerians.
Download Naija News App. Advertise with us. Send us enquiries and press releases.