Suspected Serial Rapist Defiles Seven Year Old Girl In Calabar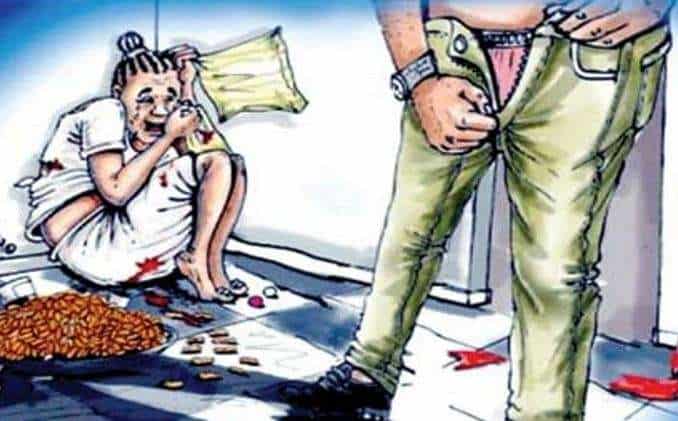 A suspected serial rapist has been reported to have had carnal knowledge of a seven year old girl in Calabar, Cross River State.
The incident happened at at 27, Queen Duke Street, when the rapist identified as Isaac Evanghoghme broke into the girl's parents' home and allegedly defiled her.
The Programmes Manager of Basic Rights Counsel Initiative, an NGO, Kebe Ikpi, while speaking to newsmen in Calabar, stated that when the incident was heard by his organization, they waded into the matter and offered to assist and treat the victim.
Ikpi, revealed that the mother of the victim had taken her along to watch the second Carnival Calabar dry run on Sunday, 11 November, when the girl demanded to go home and eat since the home was close by.
He said the suspect broke into the house and had canal knowledge of the girl.
"After a while, the little girl complained that she was hungry and wanted to go back home and eat. It was while she was at home that Isaac Evaghoghme broke into the girl's parents' home and allegedly defiled her.
"He also poured some hot water on the girl and escaped when the girl started screaming for help" adding that the suspect who lives in the neighbourhood, had allegedly raped the girl about three months ago and escaped.
"In that incident, the girl sustained severe injuries and was treated by a neighbour, Maman Fauziya, until she recovered" Ikpi stated.
The suspected rapist who had escaped was reported caught the following day by youths in the area and handed him over to Anti-Kidnapping and Cultism operatives at a police post near SPA Shopping Mall.
"After the suspect was interrogated by the Police, he confessed to committing the act, the matter was transferred to the Atakpa Police Station, Juvenile Welfare Centre, where the suspect also made useful statement to the police.
Cross River State Police Command Public Relations Officer, Irene Ugbo, in her reaction, said that the Command had recorded two cases of rape within the same week.
"Within a week, we have had two cases involving a toddler aged 3 and a 12-year old girl," she said maintaining that "The incident involving Isaac was yet to be transferred to the State CID at Diamond Hill"
Source: Naija News