Police Locked Me Up In The Toilet When Falana Visited – Evans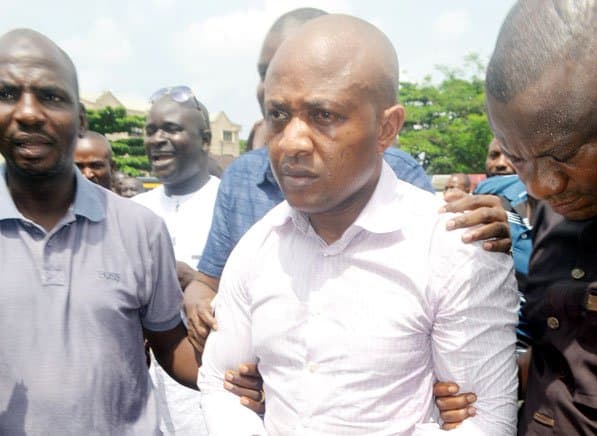 Chukwudumeme Onwuamadike, alias Evans, the suspected billionaire kidnapper, has maintained that he was tortured by police to make his confessional statement.
He countered the claim by the police that his statement was obtained under a fair atmosphere and that the statement could have been taken in the presence of a lawyer, if Evans had hired one.
Evans made this known before Justice Adedayo Akintoye, during the Friday proceedings in his trial at the Lagos High Court.
He further alleged that the Police locked him up in the toilet to prevent him from been seen by human rights lawyer, Mr Femi Falana (SAN)
Evans said immediately after he was arrested by the police in 2017, his wife, Uchenna, contacted the human rights lawyer, but upon the lawyer's visit to the police station, he was told that he (Evans) had been taken out for investigation.
Falana warned, however that the police should not come up with claims that the suspect had been shot while trying to escape.
Led in evidence by his lawyer, Mr Olanrewaju Ajanaku, Evans insisted that he was threatened to put his signature to an already prepared confessional statement by men of the Special Anti-Robbery Squad who he accused of murdering several suspects in his presence "in Saddam Hussein style."
He said, "Immediately after my arrest, my wife called Mr Femi Falana and he came to SARS. But CSP Phillip told two armed policemen to hide me inside the office toilet and to tell the lawyer that I was not around.
"I heard Phillip greet him, and Mr Falana said he wanted to see me. CSP Phillip told him that I had been taken out for investigation.
"Mr Falana warned him that he did not want to hear that I was trying to escape and then I was shot dead. He told them that if I had committed any offence, I should be charged to court."
Source: Naija News