Army In Top Gear Strategy To End Boko Haram Terrorism – Buratai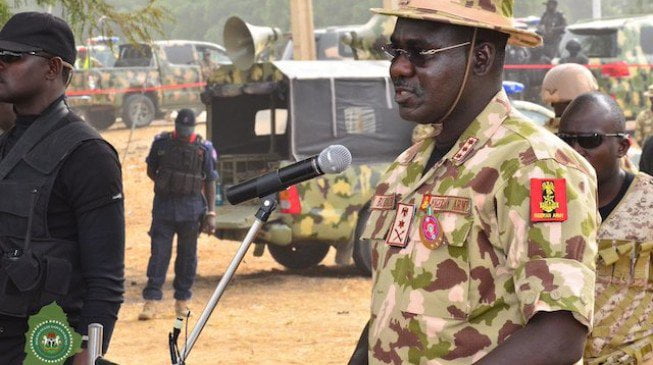 Buratai Speaks On Army's Latest Strategy To End Boko Haram Regime
The Chief of Army Staff (COAS), Lt.-Gen. Tukur Buratai has said the Army is on top of the continuous Boko Haram attacks and other criminal activities ravaging the Northeast and other parts of the country.
Buratai spoke yesterday at the demonstration and closing ceremony of the sixth edition of Exercise Vulcan Glow, organised by the Nigerian Army Corps of Artillery (NACA) in Kachia, Kaduna State.
Represented by the Commander Nigerian Infantry Corp, Maj.-Gen. Hakeem Okiti, the Army Chief said the exercise reaffirmed Army's resolve to remain well trained and focused in the discharge of its constitutional duties.
He said: "This is more so at a time the nation and the military are in top gear in addressing security challenges, most especially Boko Haram terrorists and other criminal activities bedevilling our nation's territory.
"This exercise, which is an annual event, will continue to be used to provide the needed training for NACA personnel towards improving their competence and that of the Army in general."
The Commander Artillery Corps Maj.-Gen. Abubakar Tarfa said the exercise is an artillery concentration for the planning, preparation, employment and deployment of artillery resources in all phases of conventional and unconventional wars.
He added: "This year's Exercise Vulcan Glow, therefore, provides an avenue for the Nigerian Army leadership to confirm NACA preparedness in carrying out its roles in realisation of the COAS vision of having a professionally responsive Army in the discharge of its constitutional roles."
Also, the Army yesterday said Boko Haram insurgents have resorted to arson in remote settlements in the Northeast, following renewed military campaigns against them.
The Army stated this in its Twitter handle, saying the insurgents resorted to arson on thatch houses in rural settlements as troop tightened security to prevent the insurgents from infiltrating Maiduguri, the Borno State capital.
Recall that Boko Haram, on Wednesday, attacked Mamanti village on Maiduguri-Damboa road and burnt houses in the settlement.
The Army said the terrorists fired shots to scare away the inhabitants, adding that two persons were wounded in the attack.
It added that gallant troops successfully repelled the attack, forcing the insurgents to flee.
"Frustrated by the current military deployments, which have made most towns and villages impenetrable in the Northeast, Boko Haram insurgents have resorted to arson on makeshift houses in remote settlements," the Army said.