You Are Not Fit For VP, Resign – Timi Frank Tells Osinbajo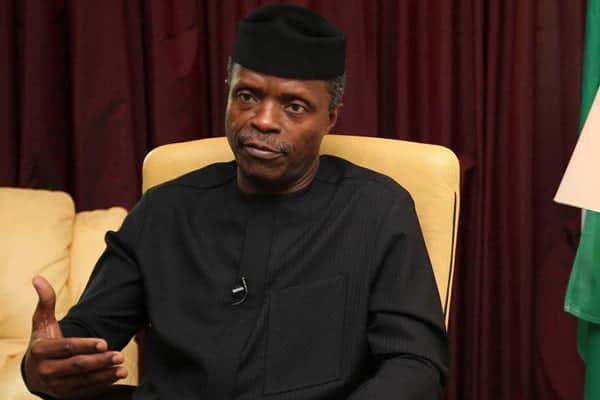 Vice President Yemi Osinbajo has be advised by the Former deputy spokesperson of All Progressives Congress (APC), Timi Frank, to resign his position.
Citing the vice president's alleged illegal approval of N5.8 billion for National Emergency Management Agency (NEMA) Frank asserted that Osinbajo was not fit to remain the vice president of the country.
Osinbajo gave the approval when he was the acting president. The money was meant for the north-east intervention fund.
The House of Representative, last week described the vice president action as illegal stating that it was not consulting before the disbursement was made.
The House also accused Mustapha Maihaja, director-general of NEMA of fraud and also called for his dismissal.
Frank asked the national assembly to act in line with its constitutional mandate to check the executive.
"It is safe to say that the present administration is the worst so far in terms of corruption and circumvention of due process laws in the nation's democratic history," he said.
"As a learned gentleman, Osinbajo cannot say he did not know that it is illegal for any government official to spend funds not appropriated by the national assembly.
"He should have known that it is intrinsically illegal for anybody to divert funds raised through the issuance of Euro Bond – approved by the national assembly for specific capital projects – to fund his 'emergency intervention.'
"What is most telling is that it now appears that the VP used his brief stay as Acting President to open up the nation's coffers for fleecing in this manner with the approval of the N5.8billion to be disbursed from the Eurobond account and another N17 billion he caused to be released from the Ecological Fund.
"These acts of financial recklessness are most unbecoming of a person of the vice-president's standing. He has a lot of explanations to render to his principal – who was on medical vacation at the time – and to Nigerians – whose trust has been rudely shaken by this stinking corruption affair.
"Being a man who enjoys immunity by reason of his office, I call on him to immediately resign his position to enable him appear before the anti-corruption agencies to state his involvement or otherwise in the scam.
"To hide under the toga of vice-president and not face prosecution alongside other NEMA officials indicted by the house of representatives report on the investigation would amount to a travesty of justice and the selectiveness that has unduly characterised the war against corruption since the inception of the present administration.
"I give the VP seven days to resign his position to enable him face the Economic and Financial Crimes Commission – like ex-governor Ayodele Fayose did recently – to clear his name.
"Should he fail to heed my humble appeal, I shall have no choice but to commence the process of making available to the public other corruption related information concerning the vice-president that will most certainly shock Nigerians."