Senate Adjourns Sitting For One Week As Senators Are Absent At Plenary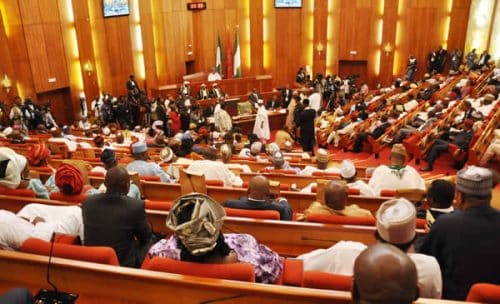 The Nigerian Senate was on Tuesday, forced to adjourn plenary for a week as the lawmakers present were unable to form a quorum.
According to information gathered by Naija News, the Senate needs a minimum of 38 senators to conduct plenary but only 20 members were seated as at the commencement of plenary on Tuesday.
Calling attention to this, Senate Minority Whip, Senator Phillip Aduda, moved the motion for the adjournment, citing order 10 (3) of the Senate rules, further explaining that most of the members were not at plenary as they were on various oversight functions.
His motion was seconded by Deputy Senate President, Ike Ekweremadu, stressing that Senate could not carry on legislative duties if members are not up to 38.
President of the Senate, Bukola Saraki, thereafter put the motion to a vote and members overwhelmingly backed it.
Plenary is adjourned to Tuesday, 20th November, 2018.#GavelBangs #TodayInSenatePlenary

— The Nigerian Senate (@NGRSenate) November 13, 2018
Senate Leader, Ahmad Lawan, then moved for the adjournment till Tuesday, November 20.