NEMA: Osinbajo Reacts To Reps' Indictment In N5.8bn North East, IDPs Intervention Fund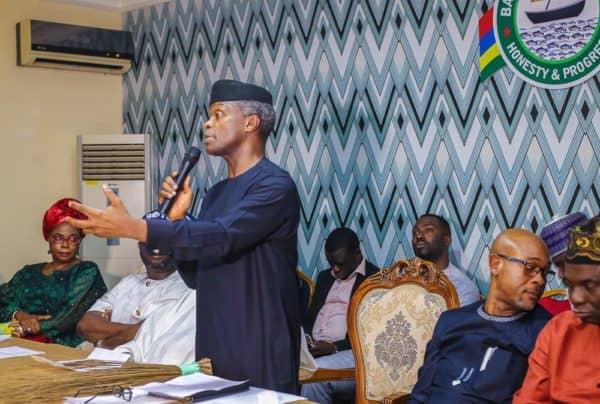 Vice President Yemi Osinbajo has denied accusation by the House of Representatives that he approved, illegally, the disbursement of the sum of N5, 865, 671, 939.26 in June 2017 from the Consolidated Revenue Fund Account to the National Emergency Management Agency (NEMA).
This accusation is contained in a statement released on Thursday by the House Committee on NEMA.
The report, whose recommendations were based on findings from a thorough investigation by the Hon Ali Isa J.C House Committee on Emergency and Disaster Preparedness, was adopted by the House.
Reacting, Osinbajo through his spokesman, Laolu Akande, said the lawmakers' conclusion was both false and misleading.
He said: "To start with, it is important to understand the context of the transaction. This was at a time when internally displaced persons and their host communities faced very severe food shortages throughout the North East, as a result of successive poor harvests and abandoned farmlands, minimal cross-border cash crop trade and lost economic opportunities.
"On 15th April 2017, the United Nations World Food Programme (UN WFP), a major aid organisation and food supplier to the region, had issued a warning that it would be reducing its vital support to about 1.8 million IDPs by as much as 85%, due to corresponding reduction in funding by the donor countries. Around the same time, the United Nations Commission for Refugees in Geneva also warned of the growing risk of mass deaths from starvation among people living in the conflict areas.
"The Federal Government of Nigeria (FGN) moved urgently to prevent the looming disaster by establishing a strategic food intervention plan for the affected States. A Presidential Committee on Emergency Food Delivery to the North East was convened and the Committee met on the 13th of May, 2017 to kick off the process, with the then Acting President as Chairman. Other members of the Committee included:
(i) Minister of Finance;
(ii) Minister of Budget and National Planning;
(iii) Minister of State for Budget and National Planning;
(iv) Minister of Agriculture and Rural Development;
(v) Governor of Central Bank;
(vi) Deputy Chief of Staff to the President; and
(vii) Senior Special Assistant in the Office of the Chief of Staff to the President.
"Resulting from the deliberations of this and subsequent meetings, the approval referred to in the House Committee's Report was, in fact, based on a request raised by the Governor of the Central Bank of Nigeria as facilitator of the National Food Security Programme, vide a letter dated May 25, 2017.
"As explained in the said letter, there was an immediate need to distribute grains, including rice, maize, soya beans and sorghum, to Internally Displaced Persons through the National Emergency Management Agency (NEMA). The only way to obtain the quantity of grains required was to resort to the National Food Security Progamme (NFSP) earlier established by the Federal Government as a means of shoring up its strategic grain reserves.
"It was in consequence of the Federal Government decision to urgently purchase the stored grains for distribution to Internally Displaced Persons that the CBN made the proposal for approval of 30,905.08 Metric Tonnes at N5,229,685,333.26. Of that amount, the then Acting President eventually approved N5,036,644,933.26, after excluding bagging costs. This was pursuant to the recommendation that bagging, transportation and other logistics were best handled by NEMA.
"NEMA also originated a request to the Acting President, dated May 25, 2017, requesting the sum of N829,026,456.00 for general logistics, branding & packaging, tracking, security, personnel, media & publicity and contingency costs of taking the grains from their respective locations in Kano, Kaduna, Funtua, Ibadan and Gombe to Adamawa, Borno, Yobe, Bauchi, Gombe, Taraba and Jigawa States.
"These presidential approvals were well within the clear constitutional authority of the Acting President, who needed to take emergency steps to forestall acute food shortages in the affected States and there was nothing illegal or unconstitutional about them. The approvals were duly communicated by the Deputy Chief of Staff to the Governor of Central Bank, Director General of NEMA and the Minister of Finance for implementation.
"On account of the emergency nature of the procurement, the House Committee's assumption that the ordinary rules of procurement would apply was wrong. Section 43 of the Public Procurement Act makes provision for emergency procurement, in which case the procuring entity is allowed to engage in direct contracting for goods and file a report thereafter with the Bureau of Public Procurement.
"It is also wrong to assume that taxes and interests accruable to government from these transactions in food items were deliberately ignored or waived by neglect. Of course, we expect that any loans advanced to any of the companies would be recovered with the agreed interests, and that any profits made by such companies would be liable to tax in the usual manner.
"The suggestion that the grains were never delivered to the target States is also blatant falsehood. In actual fact, in order to ensure effective distribution of the grains, an Emergency Food Intervention Project Team was established, consisting of the Director General of NEMA and representatives of the National Security Adviser, Chief of Defence Staff, Chief of Army Staff, Chief of Naval Staff, Chief of Air Staff, Department of State Security, Nigeria Police and the Presidency.
"The Committee also worked with respective State Emergency Management Agencies, as well as humanitarian agencies such as World Food Programme, International Committee of the Red Cross, and the United Nations Office for the Coordination of Humanitarian Affairs. Deliveries were publicly made directly to the intended beneficiaries. In fact, the then Acting President personally inspected the electronic truck-tracking unit established in Maiduguri for the purpose of monitoring the transportation, and flagged off the food distribution on the 8th of June, 2017. Besides, there was the integration of a robust monitoring and evaluation system into the operation in order to facilitate a transparent and accountable process.
"Therefore, all insinuations on this matter regarding purported indictments and perceived violations of due process or the constitution are baseless and totally false. Such interpretations are flawed and should be utterly ignored."
Copyright Naija News 2018.
All rights reserved. You may only share Naija News content using our sharing buttons. Send all news and press releases to
[email protected]
.
PDP Presidential Candidate, Atiku Abubakar To Kick-start Campaign With 'People's Policy Launch' On Monday
The Presidential Candidate of the People's Democratic Party (PDP), Atiku Abubakar will begin his campaign for president in the 2019 election with an address to the Nigerian people on Facebook at 12 noon on Monday where he will launch his policy document.
This development was made known by the Spokesperson of the Former Vice President's campaign organization, Paul Ibe, on Saturday in Abuja.
In his address the PDP presidential candidate will present his vision for Nigeria and his action plan to achieve it as encapsulated in his policy document. The document will promptly be uploaded on his website (www.atiku.org) for all Nigerians to access at no cost.
The emphasis of the document, according to the the campaign organization spokesman was to tell Nigerians that they must work to ensure that Nigeria works.
The Statement reads further : "Our campaign offers a simple message: united, the people of Nigeria can begin anew, creating a prosperous and secure future and a better life for every Nigerian.
"On the first working day of the campaign, the PDP and its candidate, Atiku Abubakar will put forward his plan to get Nigeria working again.
"We have chosen to do this by having the PDP Presidential candidate speaking directly to the Nigerian people on Facebook. This medium came about as part of the telecommunications revolution that he helped start as Vice President in 1999-2007.
"We have also chosen to have our candidate speak online as it facilitates the ability for anyone to download a copy of his policy document at no cost, as we intend this to be the policy of every Nigerian.
"Our policy document focuses on creating jobs, ensuring security, growing business, developing power and water infrastructure, agriculture and education and how we will empower women.
"Our policies outline the goals and methods for developing and revitalising Nigeria as the foundation of our campaign.
"This policy document is being launched to encourage a dialogue with the people of Nigeria, inviting everyone to join us in helping to get Nigeria working again.
"The PDP presidential candidate looks forward to conducting vital discussions as he travels across the length and breadth of Nigeria, meeting and talking with stakeholders: famers, small business people, workers, students, mothers, and children.
"We recognise that this will be a vigorous and hard fought election. We are completely confident that with peaceful, free and fair elections, we will be victorious."
Police Locked Me Up In The Toilet When Falana Visited – Evans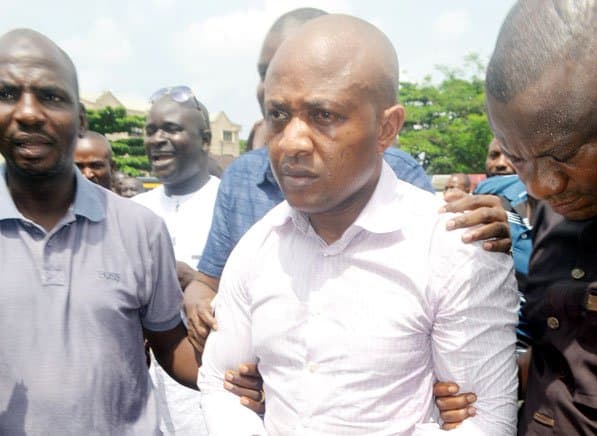 Chukwudumeme Onwuamadike, alias Evans, the suspected billionaire kidnapper, has maintained that he was tortured by police to make his confessional statement.
He countered the claim by the police that his statement was obtained under a fair atmosphere and that the statement could have been taken in the presence of a lawyer, if Evans had hired one.
Evans made this known before Justice Adedayo Akintoye, during the Friday proceedings in his trial at the Lagos High Court.
He further alleged that the Police locked him up in the toilet to prevent him from been seen by human rights lawyer, Mr Femi Falana (SAN)
Evans said immediately after he was arrested by the police in 2017, his wife, Uchenna, contacted the human rights lawyer, but upon the lawyer's visit to the police station, he was told that he (Evans) had been taken out for investigation.
Falana warned, however that the police should not come up with claims that the suspect had been shot while trying to escape.
Led in evidence by his lawyer, Mr Olanrewaju Ajanaku, Evans insisted that he was threatened to put his signature to an already prepared confessional statement by men of the Special Anti-Robbery Squad who he accused of murdering several suspects in his presence "in Saddam Hussein style."
He said, "Immediately after my arrest, my wife called Mr Femi Falana and he came to SARS. But CSP Phillip told two armed policemen to hide me inside the office toilet and to tell the lawyer that I was not around.
"I heard Phillip greet him, and Mr Falana said he wanted to see me. CSP Phillip told him that I had been taken out for investigation.
"Mr Falana warned him that he did not want to hear that I was trying to escape and then I was shot dead. He told them that if I had committed any offence, I should be charged to court."
I Married Atiku For His Integrity, I Know Him – Titi Abubakar
The wife of the Presidential candidate of the People Democratic Party (PDP) Atiku Abubakar, Hajiya Titi Atiku Abubakar, has revealed that her marriage to Abubakar was instigated by his integrity and patriotism.
Mrs Abubakar made this known went she received a campaign group, Women for Atiku, that no one knew Atiku better than she does, having been married to him for 47 years.
According to her, contrary to the vague allegation of corruption by political detractors, Atiku was actually a man whose integrity, honesty and sincerity earned him her love.
Titi Abubakar with the Women For Atiku says her husband a man of integrity
"I usually got confuse Whenever i read the false allegations of corruption being spread by mischief makers against my husband in the media.
"Most times i ask myself if they were referring to my husband whom I have been married to for 47 years or a different person.
"Their descriptions only befits the opposite of Atiku Abubakar, because he is not corrupt as alleged," Titi Said.
She insisted that the Presidential hopeful have not been found wanting in the area of honesty, sincerity, integrity and patriotism to his fatherland since she got married to him 47 years ago.
She asserted that her encounter and eventual marriage to her husband was initiated by God.
"I was on my way back to Nigeria from Benin Republic wher I went to visit my aunt at the idioroko boarder and was accosted by ofifcers of the Customs Service.
They had demanded that I pay duty for a pair of brocade material which was a gift from my aunt, an argument ensued between us and i told them to have the brocade material for a keep because i couldn't comprehend why i should pay duty for a pair of brocade.
"Suddenly an officer by name Atiku Abubakar who heard our argument summoned the officers to come along with me to his office.
"He was the head of the command at the time. After listening to both sides, Atiku demanded for the duty charge, dipped his hand into his pocket and paid the duty and handed me the receipt smiling and saying that 'I will pay him back'.
"As the head of the command he could have simply commanded them to let me go if he chose to, but his patriotism to fatherland would never allow him do so, and that singular act swept me off my feet and i eventually fell in love," she said.
The National Coordinator of Women for Atiku Mrs Blessing Egbara thanked Mrs Titi Abubakar for the warm reception accorded to her group.
Egbara assured Mrs. Abubakar that the group will continue to mobilize support for the candidature of her husband.
Egbara said that the group would embark on voters mobilisation and education adding that the group would also mobilise all registered voters to collect their Permanent Voters Cards PVCs