I Won't Abandon Fayose's Projects – Fayemi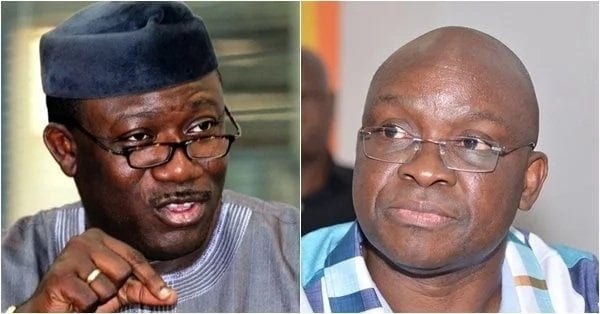 The governor of Ekiti State, Kayode Fayemi has said that his administration will not abandon projects inherited from the previous government.
Fayemi said that he will not allow the resources of his stated to go down the drown by refusing to attest to projects initiated by the Ayodele Fayose administration, even though he doesn't agree with the reason behind the action.
The governor made this known during his tour of The Gifted Academy built by the Fayose-led government in in Afao Ekiti.
He said: "When I came as governor, I completed to the best of my ability virtually all the projects left behind by the Oni administration.
"It was my government that completed some of the roads started by Oni. It was my government that completed Ipoti-Odo Owa- Ila Orangun road, Otun-Osun-Iloro road, Isan–Ilemeso road. We completed the house of assembly complex. It has always been our intention to see governance in a continuum frame.
"We don't make discreet compartmentalisation of governance but where we are today, it is inevitable, we have to take a comprehensive look at all projects whether we have the resources to work on them is another matter.
"The important thing is these have been funded by Ekiti money not by a particular governor who embarked on the project. I may disagree with many of the things put in place by my predecessor but I don't think it is in my place to abandon them because I am abandoning the resources of the state."
The governor added that World Bank support for the school project will be facilitated by his administration.
He said: "The Gifted Academy which was built by the last administration as a SEPIP project and you may be aware that SEPIP project was what I started and I got the money from the World Bank."
Source: Naija News