I Won't Abandon Fayose's Projects – Fayemi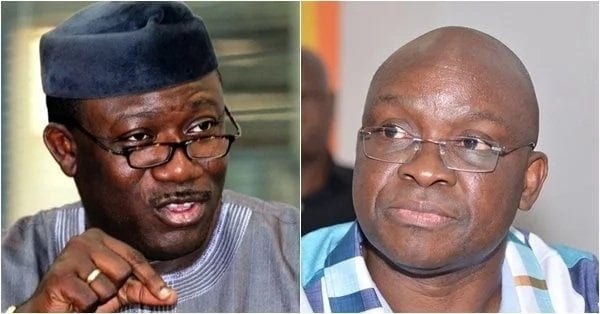 The governor of Ekiti State, Kayode Fayemi has said that his administration will not abandon projects inherited from the previous government.
Fayemi said that he will not allow the resources of his stated to go down the drown by refusing to attest to projects initiated by the Ayodele Fayose administration, even though he doesn't agree with the reason behind the action.
The governor made this known during his tour of The Gifted Academy built by the Fayose-led government in in Afao Ekiti.
He said: "When I came as governor, I completed to the best of my ability virtually all the projects left behind by the Oni administration.
"It was my government that completed some of the roads started by Oni. It was my government that completed Ipoti-Odo Owa- Ila Orangun road, Otun-Osun-Iloro road, Isan–Ilemeso road. We completed the house of assembly complex. It has always been our intention to see governance in a continuum frame.
"We don't make discreet compartmentalisation of governance but where we are today, it is inevitable, we have to take a comprehensive look at all projects whether we have the resources to work on them is another matter.
"The important thing is these have been funded by Ekiti money not by a particular governor who embarked on the project. I may disagree with many of the things put in place by my predecessor but I don't think it is in my place to abandon them because I am abandoning the resources of the state."
The governor added that World Bank support for the school project will be facilitated by his administration.
He said: "The Gifted Academy which was built by the last administration as a SEPIP project and you may be aware that SEPIP project was what I started and I got the money from the World Bank."
Copyright Naija News 2018.
All rights reserved. You may only share Naija News content using our sharing buttons. Send all news and press releases to
[email protected]
.
I Married Atiku For His Integrity, I Know Him – Titi Abubakar
The wife of the Presidential candidate of the People Democratic Party (PDP) Atiku Abubakar, Hajiya Titi Atiku Abubakar, has revealed that her marriage to Abubakar was instigated by his integrity and patriotism.
Mrs Abubakar made this known went she received a campaign group, Women for Atiku, that no one knew Atiku better than she does, having been married to him for 47 years.
According to her, contrary to the vague allegation of corruption by political detractors, Atiku was actually a man whose integrity, honesty and sincerity earned him her love.
Titi Abubakar with the Women For Atiku says her husband a man of integrity
"I usually got confuse Whenever i read the false allegations of corruption being spread by mischief makers against my husband in the media.
"Most times i ask myself if they were referring to my husband whom I have been married to for 47 years or a different person.
"Their descriptions only befits the opposite of Atiku Abubakar, because he is not corrupt as alleged," Titi Said.
She insisted that the Presidential hopeful have not been found wanting in the area of honesty, sincerity, integrity and patriotism to his fatherland since she got married to him 47 years ago.
She asserted that her encounter and eventual marriage to her husband was initiated by God.
"I was on my way back to Nigeria from Benin Republic wher I went to visit my aunt at the idioroko boarder and was accosted by ofifcers of the Customs Service.
They had demanded that I pay duty for a pair of brocade material which was a gift from my aunt, an argument ensued between us and i told them to have the brocade material for a keep because i couldn't comprehend why i should pay duty for a pair of brocade.
"Suddenly an officer by name Atiku Abubakar who heard our argument summoned the officers to come along with me to his office.
"He was the head of the command at the time. After listening to both sides, Atiku demanded for the duty charge, dipped his hand into his pocket and paid the duty and handed me the receipt smiling and saying that 'I will pay him back'.
"As the head of the command he could have simply commanded them to let me go if he chose to, but his patriotism to fatherland would never allow him do so, and that singular act swept me off my feet and i eventually fell in love," she said.
The National Coordinator of Women for Atiku Mrs Blessing Egbara thanked Mrs Titi Abubakar for the warm reception accorded to her group.
Egbara assured Mrs. Abubakar that the group will continue to mobilize support for the candidature of her husband.
Egbara said that the group would embark on voters mobilisation and education adding that the group would also mobilise all registered voters to collect their Permanent Voters Cards PVCs
ASUU Strike Continues As Meeting With FG Ends In Deadlock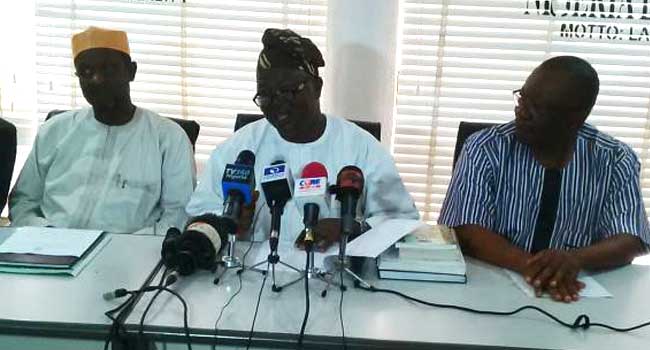 The Academic Staff Union of Nigerian Universities (ASUU) meeting with the federal government on Thursday ended in a deadlock.
The national president of ASUU, Abiodun Ogunyemi, made this known to reporters after the meeting.
He said the strike was still ongoing and would not be called off as ASUU's demands had not been met.
He said the federal government and ASUU teams agreed that the negotiation will resume next week
"We have just started the discussions; we have not really gone far. So, what we have done today is just to open up the issues. So, the strike still continues," he said
"We have not fixed a date for the next meeting but by tomorrow, we should know."
He noted that universities in Nigeria had been subjected to 20 years of continued "re-colonisation under alleged democracy".
He stated that the problems with university education have affected the country inversely.
He said the strike is total, comprehensive and indefinite as members have withdrawn their services until government fully implements all outstanding issues.
"This strike is total, comprehensive and indefinite. Our members shall withdraw their services until government fully implement all outstanding issues as contained in the MOA of 2017, and concludes the renegotiation of the 2009 agreements,"
"We have been subjected to 20 years of continued re-colonisation under alleged democracy in which all that the ruling circle have been regrouping among themselves in their various faction they called political parties." he said.
ASUU, on August 13, embarked on an indefinite strike following government's failure to implement the agreement reached in November 2016.
Okowa Receives Super Eagles On First International Flight To Asaba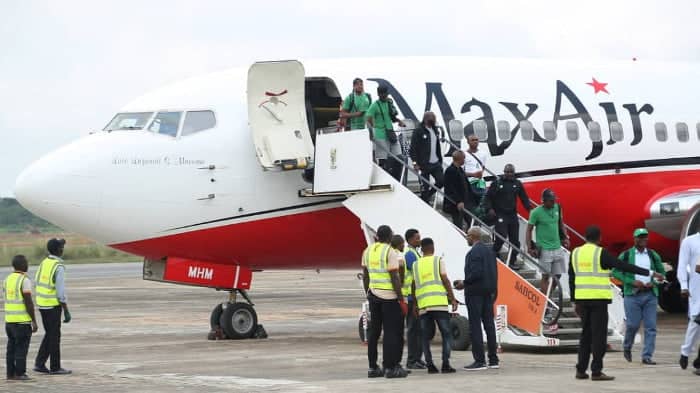 Dr Ifeanyi Okowa, the Delta State Governor, has described as historic the first international flight into the Asaba International Airport, which brought back the Super Eagles of Nigeria from south Africa.
Okowa received the Nigerian Super Eagles team after holding Bafana Bafana of South Africa to a 1-1 draw on Saturday and qualifying for the African Cup of Nations (AFCON).
The Chief of Staff of the governor, Hon. Tam Brisibe, who represented the governor, was elated by the first international flight in and out of Asaba Airport conveyed the Super Eagles Team successfully and without hitches.
"This is momentous bearing in mind that the flight successfully took the Super Eagles to South Africa and came back without hitches."
"It is more gratifying to note that the Super Eagles trained at the Stephen Keshi Stadium before leaving for South Africa through the Asaba Airport; they went to South Africa and qualified for Cameroon 2019.
"The principal thing was qualifying for Cameroon and by God's grace, we have qualified for AFCON, we congratulate the Super Eagles for making Nigeria proud," he said.
President of Nigeria Football Federation (NFF), Mr Pinnick Amaju, also appreciated the recent approval of the Stephen Keshi Stadium for international football championships.
Pinnick added that it was a thing of pride for Delta state and for the Nigerian team to have launched the Asaba International Airport.
"When it was announced yesterday (Saturday) that we are boarding and flying to Asaba, it gave me great joy, it shows that God rules supreme in Delta State, we have qualified for AFCON and we are going to Cameroon to make great impact.
"On behalf of NFF, I thank the Governor and the good people of Delta State for their show of enthusiasm since the Super Eagles came.
"Asaba stadium is wonderful and the Super Eagles will beat Uganda in their friendly match, remember that the Ugandan Team has also qualified for AFCON" he added.
Special Project Director of Asaba International Airport, Chief Austin Ayomedejo, in an encounter, said, "I feel excited, we give God the glory for using the Governor of Delta State, Senator Dr Ifeanyi Okowa to achieve this great feat.
"What is more important is that we have been upgraded to Category C airport, which allows bigger aircraft to land".