2019: Group Accuses Buhari-Osinbajo Administration Of Vote Buying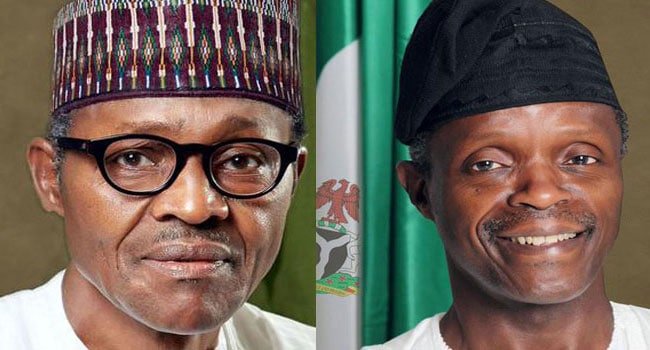 Middle Belt Forum Says Trader Moni Scheme, Is Advanced Vote Buying
The Southern and Middle Belt Leaders Forum have accused the Buhari-Osinbajo led administration of "advance(d) vote buying" ahead of the 2019 general elections.
The group, which met in Abuja on Wednesday, to deliberate on the state of the nation, noted that the Trader moni scheme of the government was an avenue to corrupt the electorate ahead of the general elections next year.
The Buhari administration launched a new initiative under the Government Enterprise and Empowerment Programme (GEEP), called the Trader Moni, which it said, will empower not less tahn two million petty traders before the end of the year, Naija News reports
Under the scheme, beneficiaries can get access to a higher facility ranging from N15,000 to N50,000 when they repay N10,000 within the stipulated time period.
In a communiqué jointly signed by leaders of the zones, namely, Yinka Odumakin, South West; Bassey Ewa-Henshaw, South South, Isuwa Dogo, Middle Belt and Chigozie Ogbu, South East, the group demanded the stoppage of the scheme as it shames the anticorruption campaign of the present administration.
"Meeting expressed utter disappointment in the Vice-President of the Federal Republic of Nigeria, Prof Yemi Osinbajo for his continued corruption of the electorates in a funny scheme named 'Tradermoni'," read the communiqué.
"We noted his odious outing with this corrupt act shortly before the Osun governorship election when he went to dole out cash to would -be voters and distributing forms in which beneficiaries were asked to fill in their PVC details and phone number.
"A few days back, he took the perverse scheme to Lagos accompanied by the Governor of Lagos and the APC governorship candidate in Lagos state, an act that totally betrayed the political manipulation of the polity with pecuniary tools.
"It is rather unfortunate that a Professor and Senior Advocate of Nigeria is not ashamed to be doing this open 'see and buy' ahead of elections while he continues to preach virtues when convenient.
"We demand immediate suspension of this scheme in the manner the VP is going about it presently as it shames the whole anti-corruption campaign of the administration. It is pure bribery of voters."
Source: Naija News