Why Nigerian Banks Need To Meet Up With 'FINTECH' Revolution – Osinbajo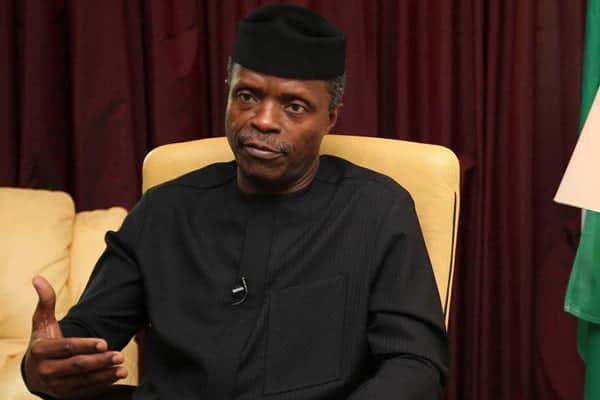 Vice-President Yemi Osinbajo has charged Nigerian banks to be reformed for them to meet up with the inevitability of the Fintech revolution.
While speaking at the ongoing first ever Africa Investment Forum in Johannesburg today, Osinbajo maintained that there are no plans to take the banks' lunch, but the banks have to reform to survive.
He said the "Fintech companies, as you know, are challenging some of the old laws on banking and all of that".
"The major issue is that technology is clearly going to disrupt the financial space, and is doing so already, so banks have to reform," Osinbajo said.
"They have to invest in some of the Fintech companies themselves, and they have to see this revolution as inevitable.
"I think that what we are seeing today is the reform around that space, and many of the banks are looking up and understanding that this is going to happen, and it's already happening".
He, however, allayed the fears of the banks by saying the government is, and will, work with them, the regulators, and the Fintech companies to ensure development in the sector.
"I think the first thing is to allay the fears of the bank that lunch isn't being taken away. Banks, of course, are jittery about some of what is happening in the Fintech space," Osinbajo added.
"They need to be assured that this isn't about taking their lunch but that we cannot avoid what is coming to us now.
"What we are saying is that payment system, lending, all sort of financial systems, even insurance are happening much faster.
"So we have to change regulation and we must ensure that we give space to these tech companies because what is happening is that there is a quick convergence between technology and financial products.
"So much faster than many of the banks are able to cope with, so what we are trying to do is work with the banking system, the Central Bank of Nigeria for example, we are sitting with the Fintech companies, banks, and the telcos.
"The telcos are in this space now and many of them are challenging some of what used to be traditional banking businesses."
Copyright Naija News 2019.
All rights reserved. You may only share Naija News content using our sharing buttons. Send all news and press releases to
newsroom@naijanews.com
.